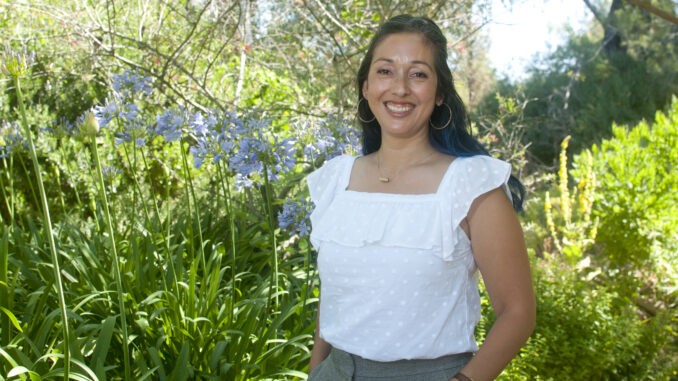 by Anne Stokes
In the latest 2020 census count, California's Hispanic population made up the largest racial or ethnic group for the first time: Nearly 40% of residents—more than 15 million—identified as Hispanic. And according to California's Department of Finance estimates, that population will grow to represent half of all Californians by 2060.
"It is widely understood that community leaders and elected hopefuls must mobilize and engage this majority of residents," explains Hatzune Aguilar, director of strategic engagement for Communities for a New California Education Fund. "But just as important is the understanding that Latinas must be centered in any outreach. Latinas are generally more likely to turn out to vote. Also, they not only show up, but … they encourage their friends and families to become engaged as well."
CNC works to educate voters about policy issues that affect their everyday lives and empowers communities to improve their neighborhoods through civic engagement.
"When our organizers work with residents on affordable housing in Merced or Fresno, we notice Latina women coming together to fight for the futures of their families," Aguilar says. "When our organizers rally around air quality in Indio or for access to quality drinking water across rural California, once again, Latina women are showing up at hearings, in their neighborhoods to run surveys, or at city and county meetings to push for their voices and concerns to be accounted for."
According to a 2020 state poll conducted by Univision News, Latino Community Foundation and North Star Opinion Research, the most important issues weighing on Latina voters include:
• Affordable housing
• Accessible and affordable health care
• Improving wages and incomes
"Latinas are a force waiting to be recognized for what they are: Progressive-leaning influencers (who are) fed up," Aguilar says. "Their lived experiences of fighting for economic stability and a healthy future for themselves and their families inform their alignment with progressive values that support healthcare access, housing stability and economic equity as a human right."
Unfortunately, Hispanic voters have a troublesome history of not flexing their political power. According to the Public Policy Institute of California, only 47% of eligible Latino voters are likely to do so, compared to 65% of non-Hispanic white voters. To political pundits, the Latino voting bloc is known as a sleeping giant.
"There's no better way to be a leader for your household and your family than to show up with your vote," Aguilar says. "(Voting) literally decides who gets access to clean drinking water, who will have resources to keep their homes, who will be able to go to a local doctor easily, and who will be able to work because they have childcare or early education for their kids."
To learn more about what CNC does for communities and how you can get involved, visit www.cncedfund.org.