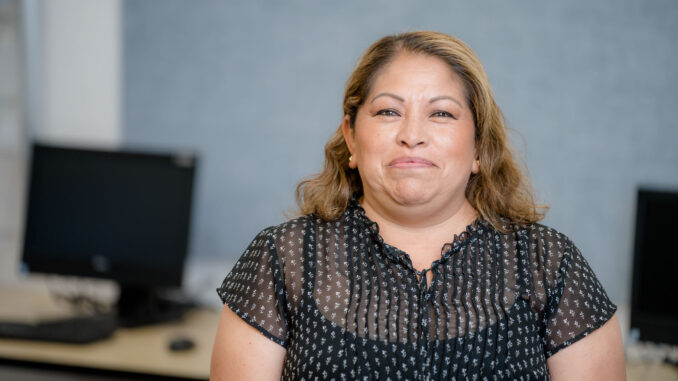 by Whip Villarreal
Francisca Juarez works as a shift manager at McDonald's and to address her language barrier she was experiencing in both work life and personal life, she turned to Huntington Beach Adult School.
"I benefited from the ESL program because it helped me get a better position at my job and helped me communicate better with people whether they are doctors, police or others that could not understand Spanish," Juarez said. "So taking these classes has helped me better communicate with my community."
Juarez said that attending Huntington Beach Adult School has improved her quality of life by helping her comprehend English. She said that it was difficult not being able to speak English with other managers, supervisors or customers and the language barrier made her job harder than it needed to be. She took advantage of the English as a Second Language program Huntington Beach Adult School offers.
Juarez said that one of her other biggest challenges was technology. She credits her success to the helpful HBAS staff for not only helping her comprehend English, but also teaching her how to properly use a computer. Juarez plans to continue her education with Huntington Beach Adult School so she can make her English more fluent. Meanwhile, she is looking for more opportunities—either in her current job or in another line of work. She is interested in pursuing office work and says without receiving education from Huntington Beach Adult School, she would not have those options.
Her advice to others considering taking classes at the school is to not be afraid to attend. The school has a diverse student body made up of people of different age, gender and backgrounds. She said that the school can help improve the quality of life for many in the community who are willing to learn.
Huntington Beach Adult School offers no-to-low-cost programs which include high school diploma/GED programs as well as an array of career training education for in-demand, local, high-paying jobs. In addition to training students in lucrative fields like health care, medical billing, accounting and Information Technology, the school's connections to employers result in more than 95% of their graduates finding immediate employment.
To learn more about programs offered at Huntington Beach Adult School visit www.hbas.edu or call (714) 842-4227.