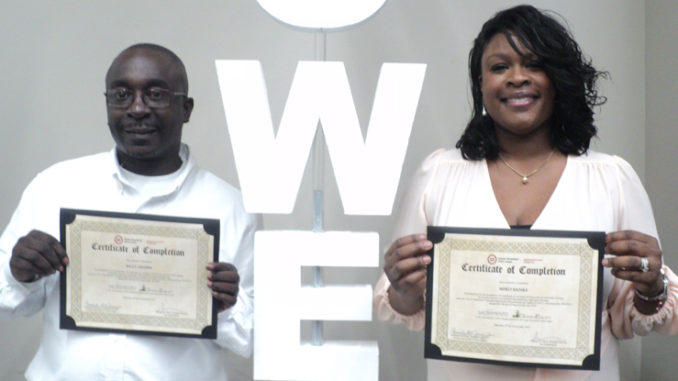 BY EDGAR SANCHEZ
Thirteen people of color made history recently by mastering the skills to enter Sacramento's legal cannabis industry—with the city's blessing.
The eight men and five women became the first to graduate from the Cannabis Opportunity, Reinvestment and Equity Program (CORE), at the Greater Sacramento Urban League (GSUL). They met 18 consecutive Thursday evenings, learning cannabis business development/operations and marketing.
"CORE has been a long time in the making," GSUL CEO Cassandra H.B. Jennings told guests at the December 19 graduation. "However, the progress we made is evident by our presence here to recognize" the league's initial CORE class.
After California voters legalized recreational marijuana in 2016, 20 years after they legalized medical pot, activists demanded a gateway for people of color in Sacramento to legally sell cannabis in their city.
Underprivileged communities were disproportionately impacted by the war on drugs, the activists said. Starting about 1970, thousands of people of color, particularly African Americans, were arrested for marijuana-related offenses. Their imprisonment separated families, depriving them of college educations and home ownership.
Because of that disenfranchisement, black and non-black latinx people deserved opportunities to enter the legal cannabis sector, an expected $4-billion-a-year industry in the Sacramento region, the activists maintained.
Gateway proponents included Malaki Seku Amen, of the California Urban Partnership, an economic justice organization supported by The California Endowment.
After negotiations, the Sacramento City Council created the tuition-free CORE in 2018. CORE graduates won't have to pay Sacramento's cannabis business permit fee, which ranges from roughly $2,600 to tens of thousands of dollars, depending on the type/size of the enterprise. They will still be required to pay for state permits.
Mayor Darrell Steinberg told the graduates: "As we celebrate all the fabulous advances in our city, it's only meaningful if it's inclusive and that it makes up … for some of the gross injustices that have been done over time to too many people—especially people of color.
"May you all start great and successful businesses."
"On behalf of my cohorts, we really appreciate all the help [the CORE program] provided, giving us a hand up."

Billy Adams
Graduate, CORE Program
Class speaker Billy Adams said: "On behalf of my cohorts, we really appreciate all the help [the CORE program] provided, giving us a hand up."
In an interview, graduate Miko Banks, a customer service representative for a non-cannabis firm, said: "My plan is to purchase land and build an industrial, commercial building and allow other members of my cohort" to join her cannabis enterprise.
Seku Amen, who aggressively pushed for CORE's approval, could not be reached for comment because he was on vacation.
The city has two CORE-training facilitators. The other: the Sacramento Asian Chamber of Commerce, whose first 50 students recently completed five weeks' training. They received certificates of completion, without a ceremony.
For more info, google city of Sacramento CORE Program.