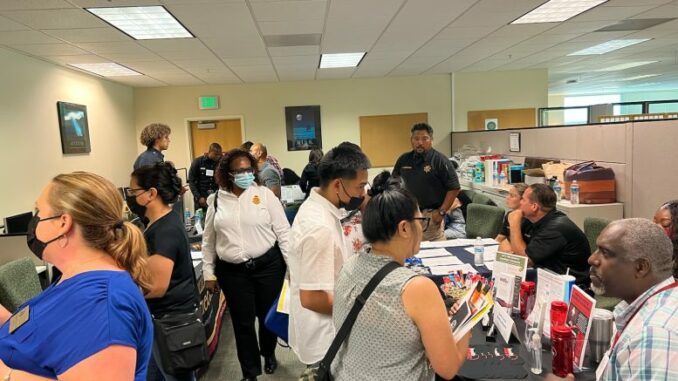 by Anne Stokes
Phillip Fitzgerald loved his job. For 32 years, he worked as a commercial driver, most recently transporting senior citizens. He was at his last job for nearly five years before the pandemic hit and the company shut down. After a year of lockdowns and COVID-related closures, he finally found another job, only to have that company relocate out of state after two and a half months. With a family to support, Fitzgerald needed to find work.
He wasn't alone. By April 2020, the national unemployment rate soared to 14.7%. By October of that year, it dropped by half to 6.9%. But since then, that descent has slowed down to 3.5% by September 2022. To date, employment in service occupations has yet to catch up to pre-pandemic levels.
"Workers in service industries and occupations with a lot of close social contact suffered the highest job losses during the pandemic recession. Many businesses had to close their doors during the pandemic," explains Loretta Bisio, employment program manager for the Employment Development Department. "The economic fallout from the COVID-19 pandemic caused widespread distress, with stay-at-home-orders and restrictions on businesses affecting many Americans' mobility and ability to work."
Facing unemployment once again, Fitzgerald sought help at EastBay Works in Concord.
"I went to EastBay Works because I wanted to have my resume (polished) up a little bit and because I was about to go out and look for work again," he says. "I went on a Tuesday during my lunch break and (a counselor) said there's a job fair here on Thursday."
At that job fair, put on by the Workforce Development Board of Contra Costa County, Rubicon Programs and EDD, Fitzgerald found a wealth of employers looking to hire. He was connected with the Elijah House, which has helped him find part-time work. The end goal, however, is to get his foot in the door at a state agency, which offers more stability, better pay and benefits.
"We connect employers to their future workforce and we connect job seekers to their future careers," says Patience Ofodu, business services manager with the Workforce Development Board of Contra Costa County. "We work with businesses to understand what the businesses need. … (Then) we work with educational (organizations) and nonprofits to get job seekers ready so they're able to take advantage of the skills that will give them good paying jobs in industries that are thriving."
In preparation for the job fair, the WDB surveyed more than 100 businesses around the Contra Costa County area to get a better idea of how to best serve employers and job seekers alike. They found that:
59% are trying to fills vacant positions
56% are planning to create new jobs
14% are planning to create more than 20 jobs
27% are looking for candidates with specific hard skills
Fresh on the heels of several COVID-19 restrictions being lifted, Ofodu says they were hoping maybe 100 job seekers would attend. Instead, over 400 people showed up to meet with 22 employers. It was so successful, the WDB organized another job fair a few months later with 34 employers and 10 resource providers, such as adult education organizations, EDD and the California Department of Rehabilitation. Ofodu says there are plans to continue offering job fairs in 2023 as well.

"We connect employers to their future workforce and we connect job seekers to their future careers."
Business services manager, Workforce Development Board of Contra Costa County
Though the job fair was a resounding success, Ofodu says the WDB will continue to offer a hybrid of in-person and virtual programming to ensure resources are more accessible to job seekers and employers. Webinars, video workshops, one-on-one meetings with counselors, job postings, recruitment and more are available online, while career centers still offer services like trainings, computer labs and career counseling. And all of these services are free.
"COVID made us establish a virtual platform for workshops and even for meeting with clients. As a result of that, now post-pandemic, we have retained some virtual presence for our services to both employers and job seekers," says Ofodu. "You can never replace meeting people in person, however for convenience's sake, we found that … people show up more when you have it virtually."
Though Phillip Fitzgerald found work and is building a new career path for himself, he admits it was difficult, even with help. He encourages other job seekers to be persistent.
"It's so easy to get overwhelmed and get depressed, but you have to fight that because tomorrow will come and as long as you're living, you're going to have to try to keep a roof over your head and food in your stomach," he says. "There are so many services out there, don't be afraid to ask. At places like EastBay Works, you go in and you say, 'Here's my situation, can you give me some pointers? Can you give me a direction to go in?' and they'll help you. I think a lot of people are numb to the services because they don't know where to start or where to look, but you can't give up."
Stay up-to-date on events and opportunities with the Workforce Development Board of Contra Costa County's newsletter. Sign up at www.wdbccc.com or call 925-671-4500 for information. You can also visit www.eastbayworks.com or https://calworkforce.org/ for further resources.
This article appeared in Sacramento News & Review https://sacramento.newsreview.com/spotlight/california-workforce-association-spotlight-members-help-job-seeker-and-employers-reconnect-post-pandemic/ and has been published here with permission.