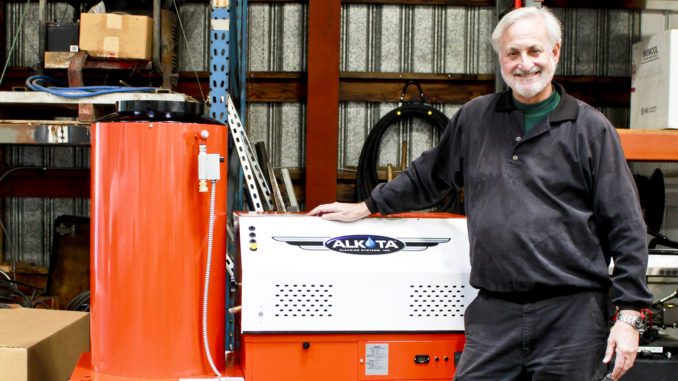 Company specializes in industrial-size pressure washers and other high-powered cleaning tools
BY ALLEN PIERLEONI
Howard Ditkof was standing inside Steam Cleaners, Inc., his Old North Sacramento business housed in his refurbished 9,500-square-foot warehouse filled with massive machinery.
Ditkof and his crew sell and service cold- and hot-water pressure washers (with some rentals), and wash water recycling systems (think car washes). Which may not sound exciting until you get a closer look at the pressure washers and realize just how large, powerful and effective they are. Some even run on Honda engines.
What's the differences between hot- and cold-water washers?
"A cold-water system pumps water at pressure and blasts off dirt, but a hot water system heats the water to about 180 degrees and removes dirt, oil – you name it," he said. For context, the hot water coming out of your faucets at home is about 130 degrees, while the boiling point of water is 212 degrees.
Let's talk about water pressure, or psi, pounds of force per square inch of area. The psi of a garden hose with a pistol grip, for instance, is 100.
"Most of our customers have hot-water pressure washers of 2,000 to 3,000 psi, moving three to five gallons of (scalding) water a minute," he said. "I can sell you 40,000 psi, but we generally know what our customers need better than they do, and they're looking for our advice."
Usually, his clients "need more water flow and less pressure, but everybody wants more pressure. I call it the Tim Allen Effect – 'More power!'" Ditkof said. "We often get guys in who say, 'I want 5,000 psi, I'm going to clean trucks.' We'll say, 'You're going to blow holes in them.'"
Ditkof also owns pressure-washer companies in Stockton and Concord – a second Steam Cleaners and J&S, respectively – and has about 10 competitors between Watsonville and Chico, he said.
If you're in the market, the low end is $900 for the smallest cold-water pressure washer in the store – something you might use to clean your driveway – moving to a high end of $80,000.
"We often get guys in who say, 'I want 5,000 psi, I'm going to clean trucks.' We'll say, 'You're going to blow holes in them."

Howard Ditkof
Owner, Steam Cleaners, Inc.
"We're a very industrial niche," Ditkoff said. "Consumers account for less than 1 percent of our sales."
Among his clientele in need of washers to clean their equipment are a Caterpillar tractor company, three public works yards in Sacramento, a drilling company in Rio Vista, military installations, trash companies, auto dealers, construction companies and the Shell Oil Refinery in Martinez.
"I got a call yesterday from Travis Air Force Base about systems to clean airplanes, and recent service calls from the City of Tracy and AC Transit headquarters in Oakland," he said. "We maintain and fix equipment at its location when it breaks, whether it's our product or not. Service leads to sales."
Ditkof has a master's degree in chemical engineering from the University of Michigan and an MBA from Yale, credentials that seem a bit formal in the Steam Cleaners warehouse.
"I actually had a career at one time," he said with a chuckle, referring to his executive position with a $5 billion industrial gases distributor in New Jersey, where his budget was $2 million.
He moved to California and into a job with the Loomis cash-handling company, where "I had 1,300 guys with guns working for me up and down the West Coast." 
I thought there had to be something else in life besides living on airplanes," Ditkof added. So, he spent a year looking for the right opportunity. That led to the purchases and mergers of several pressure-washing companies into his present-day model.
Never still, Ditkof is in the midst of starting another project, Evergreen Gardens, a cannabis cultivation company in a huge space conjoined to Steam Cleaners. But he's facing a track meet of bureaucratic hurdles. "We'll see," he said.
Steam Cleaners, Inc.
960 Arden Way, Sacramento. 916-442-1118, www.pressurewasher.pro.