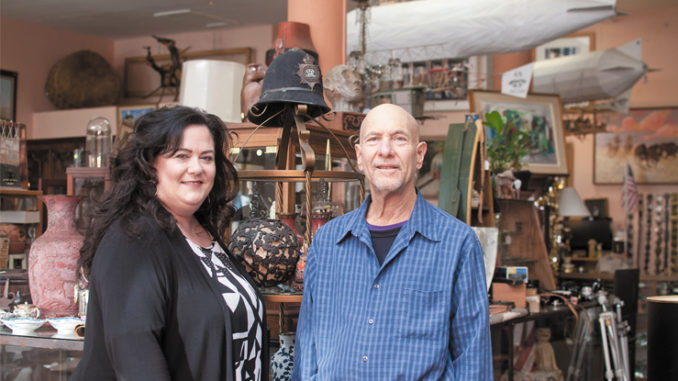 Schiff Estate Services offers help as well as finds
BY ALLEN PIERLEONI
Stepping inside the Schiff's Estate Sale Building is a retro trip into a garage sale multiplied by 1,000; a random yet indicative glimpse into the private lives of people you never knew.
The sort-of organized showroom is an expedition into stuff – Fiestaware, original paintings, chairs, cabinets, model trains, wine glasses, Asian screens and sculptures, antique spoons, lamps, Native American drums and pottery, carpets, jewelry, pairs of boots, cameras, toys. Over here is a 1950s hand-painted lampshade depicting a Hopi Indian ceremony, topping a burlwood base ($850). Over there is a box of vinyl LP records (anyone up for some Young Rascals?).
Name it and it's likely somewhere among the trove of delightful discoveries. Like the trio of imposing hand-made dirigible-looking "flying machines" hanging from the ceiling, three of 50 crafted by a local artist ($1,800, $1,500 and $1,200).
Proprietors Gary Schiff and Danyelle Petersen, both certified appraisers, share a profession that regularly takes them into strangers' homes at the most stressful of times. They're hired to organize and run estate sales, liquidating the contents of homes by inviting the public in for open houses. The reason for an estate sale might involve a death, divorce, bankruptcy, downsizing or change of residence.
"We will come in to the home, find out from family members what's for sale, price it at fair market value, and ask the family to remove what's not for sale," Petersen explained. "We ask that they not be there during the estate sale because it can be extremely emotional for them."
Schiff Estate Services sets up the sale, staffs it, promotes it via email, and advertises on estate sale-specific web sites, all with photos of sample merchandise.
"You'll find things at a fraction of the cost of what you would purchase new," Petersen said. The company is paid a percentage of the sales.
Schiff Estate Services has a second model as well, at its sprawling site on Del Paso Boulevard. "This building meets the needs of people who can't have a sale in their homes," Petersen said, which may be in a gated community or an apartment building.
"We want to bring in fun, eclectic items. We sell on consignment or we purchase outright. The very first sale we brought in was from a mobile home, with some really great Victorian furniture."
Petersen and Schiff "never know where an estate sale will be or what we'll find," she said.
What about discovering hidden treasures? There's that, too. In 2011, for instance, "we had a fantastic find that was a major piece of history."
She and Schiff went to the home formerly occupied by two women who had no family or heirs, to gather merchandise, and discovered a sword in a closet. It turned out to be an Ames gold- and ruby-accented piece that had been presented to a hero from the Mexican-American War. They sent it to an auction specializing in historic items, where it sold for more than $100,000. The women's estate was bequeathed to the SPCA.
At another estate sale, they rummaged through a pile of trash in the garage and found three camera-ready "Peanuts" strips, 36 inches by 12 inches, used in the photo offset printing process in the 1960s, for the Charles Schulz comic strip's reproduction in newspapers.
"We sent those to a historic auction and they brought $44,000," Petersen said.
Beyond that, though, Petersen looks at the day-to-day business as "a service that helps families in need get through (a trauma)," she said. "Helping people is the part I really like."
Schiff's Estate Sale Building
1309 Del Paso Blvd., Sacramento
916-206-4458, 916-923-1443
www.schiffestateservices.com