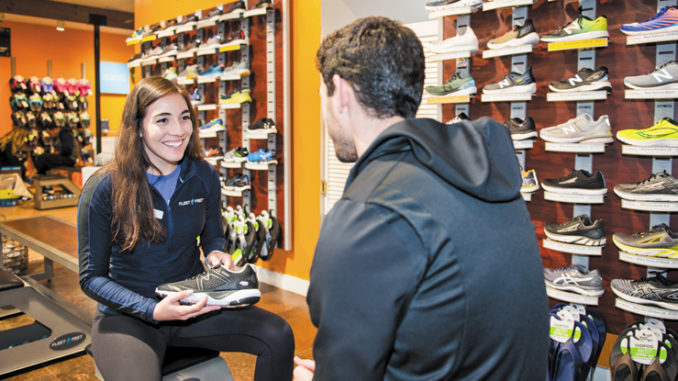 Keep going with the right gear and support from Fleet Feet
BY ANNE STOKES
New Year resolutions start out with the best of intentions: Exercise, eat healthy, live better! At Fleet Feet, you can find the support and guidance to keep at least some of your resolutions on track.
Start off on the right foot with a free 3D scan. Fleet Feet's Fit ID scans measure your foot down to the smallest detail, ensuring just the right fit. Fleet Feet staff are also well-versed in getting you into the right type of shoe for whatever activity you're interested in, whether it's running, walking or staying on your feet through your next shift.
"We've got people who are running marathon after marathon and folks who have never run a day in their life; they're just looking for comfortable shoes for work," says Marketing Director Annalisa Romero. "We have quite a wealth of knowledge here for athletes of all levels and folks who aren't even athletic; they're just looking to be comfortable and minimize pain."
Once you have the right shoes, the next step is using them. Fleet Feet offers group training programs at its Sacramento, Davis and Elk Grove store locations.
"It's great for people who are just getting into the sport and would like more guidance and we have people who are setting really impressive marathon [goals]," says Romero. "There are resources and training plans for all fitness levels."
Whether they're a seasoned marathoner or a newbie, Fleet Feet has something for every runner. Gift cards are Available to spend on shoes, apparel, a GPS watch or training session. With Fleet Feet's help, hit the ground running in 2020.
Visit Fleet Feet in Midtown at 2311 J St. For more information, call 916-442-3338 or visit www.fleetfeet.com for training program registration.