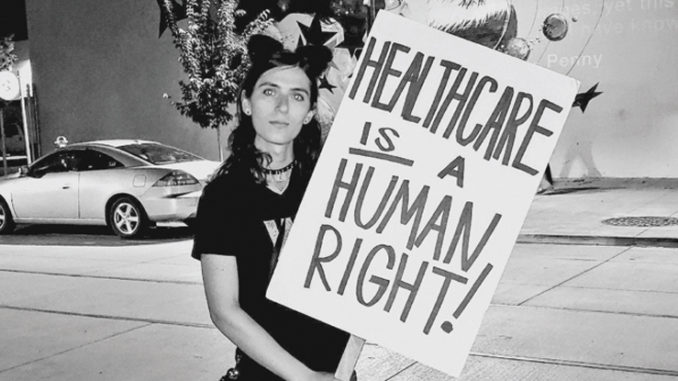 Members' personal stories at the heart of campaign
California has the most poverty in the country. We don't have a resource problem; we have a distribution problem.
And one way we are kept from thinking about redistribution is to pit working people against each other. Expanding access to medical care for immigrants or lower wage workers, for example, does not raise the cost of care or reduce services for other people. More health care for me does not mean less health care or services for you.
We reject how people are pitted against each other. Instead, we advocate that everyone have affordable medical care. Drug companies, hospitals, and insurance providers should not make excessive profits at the expense of working people – black, white, Latinx, Asian-Pacific Islander, born here or in another country.
We all know drug companies are making excessive profits, and the prices for drugs are much lower in other countries. According to Congressional research, U.S. drug prices were nearly four times higher than average prices compared to similar countries.
How greedy are some drug companies? They're not only among the most profitable companies in the country, but once patents expire, they pay producers of generic drugs to not make those lower cost alternatives to keep lower-cost generic drugs off the market.
In California, Assemblymember Jim Wood of Santa Rosa authored a bill that would ban this practice, otherwise known as "Pay for Delay." The bill analysis noted this practice costs consumers nationally at least $3.5 billion per year.
From a state worker perspective, in addition to the high cost of prescription drugs, the high cost of care in rural areas in California is a problem. Fewer public hospitals and HMOs are in rural areas; they have a monopoly and can charge a lot. Also, it's harder to recruit and retain doctors and specialists in rural areas. In addition, consolidation further limits choices.
Costs vary widely, but it's hard for consumers to tell in advance what they'll be charged. Also, laws around transparency allow hospitals and insurers not to disclose all the information about the level of profits they have, and the services they charge for.
As a pilot project, CalPERS has started to identify a reasonable cost for treatment. Centers of excellence that provide non-urgent procedures are free for our employees. If people prefer to use a different center or specialist, then they pay the difference.

We will continue to explore ways to lower costs, control profits and maintain quality. One way we are doing this is asking our members to share their experiences with us and make sure that the pilot projects CalPERS implements address problems our members face.
Here is Lisa's story. She lives in Redding, where there are only two small HMOs. There are no specialists. Many people travel to San Francisco, Sacramento or even out of state to Oregon or Nevada to see a specialist, she said. And even when they follow the insurance rules, they run into big bills.
"One of my sons was operated on, and I received a bill for $23,000 because the anesthesiologist was out of network. How can the hospital be in network, but the anesthesiologist out of network? And when I talked with the insurance company, we were told it was my responsibility to check."
This was not an isolated case, Lisa said. "One of our members had a baby, and while she waited for the bill, she received a 30-day notice that she would be sent to collections if she didn't pay for the out-of-network doctor who helped to deliver her child, again at an in-network hospital."
Our goal as a union is to continue advocating with our CalPERS Board to force insurance companies to improve services and reduce costs. By sharing these stories, we're pushing them to listen to our members, to reduce the amount of profit being leaked from our health care systems, and make sure everyone receives quality health care at a reasonable price.
Because we don't have a resource problem – we have a distribution problem. And lawmakers and the CalPERS Board can and should be allies in helping redistribute resources.