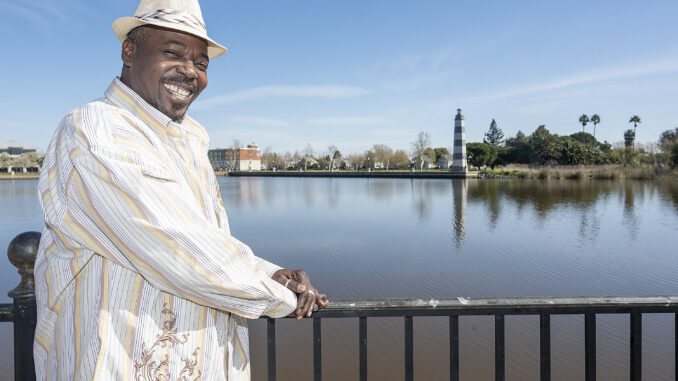 by Gail Allyn Short
Larry Jackson, 46, of Suisun City, is turning his life around, thanks to the Workforce Development Board of Solano County and its partners.
After serving more than a year in prison, Jackson needed a job to support his children, he says. But his struggles with bipolar disorder and depression did not help.
He used to work in the mortuary transport field, he says. "But that was getting to me because of my mental health."
So, he turned to employment specialist Roxanne Medearis at Caminar, a nonprofit agency offering behavioral health and social services.
"When I meet with clients, I look at their employment history, their education and what their goals are," says Medearis. "I also teach them how to fill out a job application, and we do a lot of mock interviews to prep them on how to get a job."
Jackson told Medearis that he wanted to be a forklift operator. "And Roxy said, 'We can do that because there's a program that can help you pay for the training,'" he recalls.
Medearis referred Jackson to Rachelle Franko, the disability resource specialist with the Workforce Development Board of Solano County.
Franko and Jackson sat down and reviewed all of the training opportunities available to him, Franko says.
"I was able to put him in training with the Fairfield-Suisun Adult School to get his forklift licensing," Franko says.
She even helped him find a scholarship.
Another Workforce Development employee, Sheryl Cutler, is a program analyst for the agency's America's Job Center of California. She specializes in working with people with criminal histories.
Free and open to the public, the Job Center is where people like Jackson can access information and guidance and apply for various programs and services offered through the Workforce Development Board, Cutler says.
"People from all walks of life come in for information and to apply for services," Cutler says. "And like a library, there's a person at the information desk who can guide you to what you need."
The Center's offerings include a re-entry packet containing tips on how to explain one's conviction to a potential employer, interview advice and lists of workshops featuring public defenders, employment specialists and others who can help parolees get back on their feet, she says.
Meanwhile, Jackson was also homeless, so the Workforce Development Board and Caminar collaborated to get Jackson into transitional housing.
And when he graduated from the forklift training program last year, Franko and Medearis helped him prepare his resume and held mock interviews with him.
Jackson is still on the job hunt, but says he is grateful to the Workforce Development Board and Caminar for helping him pursue his goal.
"They just give you confidence," says Jackson, "and if you want to do something, you can do it."
The Workforce Development Board of Solano County is here to help. Job seekers and employers can find valuable resources at www.solanoemployment.org.
Resources for the Justice Involved
The Workforce Development Board of Solano County and its partners are giving ex-offenders and justice involved citizens a path to employment.
This article appeared in Sacramento News & Review https://sacramento.newsreview.com/spotlight/workforce-development-board-and-caminar-give-suisun-city-man-a-second-chance-at-life/and has been published here with permission.