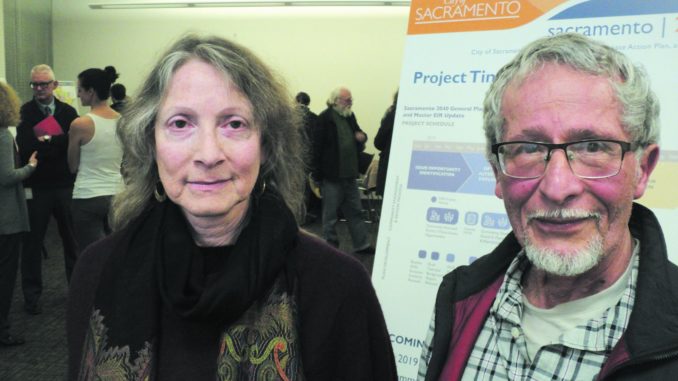 BY EDGAR SANCHEZ
With temperatures rising everywhere, scientists have sounded an alarm and the community is responding: Global warming endangers the entire planet.
When Sacramento residents attended a recent "open house" meeting for the city of Sacramento's General Plan Update (GPU) — or the city's policy guide — environmental concerns were a main point of focus. For instance, Laurie Rivlin Heller, who teaches part-time at Woodland Community College and is retired from the California Natural Resources Agency, believes global warming can be mitigated if people advocate for anti-pollution measures in their own backyard.
"Most of the changes need to happen in local communities, with local governments, citizens and businesses" said Heller, who is part of 350 Sacramento's effort to encourage these entities to adopt clean energy strategies and turn away from burning fossil fuels, which releases gases and chemicals into the air and contributes to climate change.
"Most of the changes need to happen in local communities, with local governments and businesses."

Laurie Rivlin Heller,
Woodland Community College faculty
As Sacramento — her city — prepares for its GPU, Heller will make her voice heard during the two-year process that will shape the blueprint for Sacramento's growth through 2040.
So will her friend, fellow Sacramentan Oscar Balaguer, a retired environmental scientist from the state Water Resources Control Board. Balaguer and Heller were some of the 30 residents who heard a project overview from city staff during the open house event at Sacramento's City Hall.
"The GPU must address eight topics," Remi Mendoza, a senior planner for the city's Community Development Department, told the guests.
Topics will range from transportation and housing to land use, and will address environmental justice for the first time ever.
Environmental justice stems from SB 1000, a new law mandating that municipalities listen to historically-discriminated communities during General Plan revisions.
An important part of addressing environmental justice will be incorporating the feedback of disadvantaged communities, as mandated by SB 1000. This law will help give these communities more of a voice in goals, policies and objectives.
Public hearings on the city's GPU are planned throughout Sacramento, starting this spring. The county is also conducting a GPU.
The city's General Plan was last updated in 2014, under conditions that have since changed. As part of the GPU, staff will prepare a Climate Action Plan with a new "framework for programmatic greenhouse gas emissions" reductions.
"We will be involved with the GPU from beginning to end," Balaguer said of the community, to ensure the final plan appropriately responds to climate change.
The California Endowment financially supports some nonprofits working to include community perspectives in the GPU.
For more info about Sacramento's Climate Action Plan click "Learn more" below.