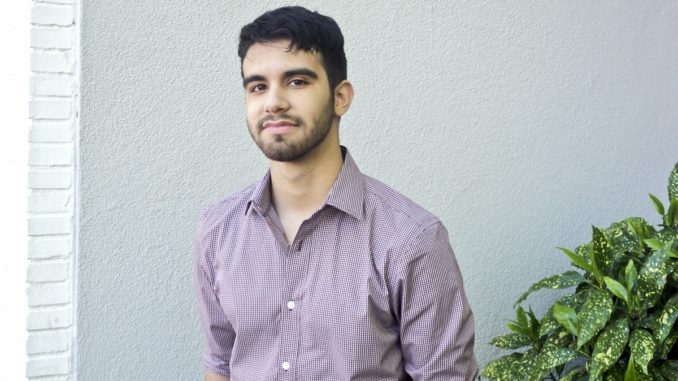 By Edgar Sanchez
Ivan Caballero has thick skin. That would explain why the Sacramento City College freshman recently revealed he doesn't care what President Donald Trump says about news reporters.
Trump has labeled journalists everything from "disgraceful" and "enemies of the state" to purveyors of "fake news."
"He can say whatever he wants," Caballero, 21, said in an interview, with no hint of anger, adding that the president's repeated attacks on the media will not deter him from becoming a news reporter.
"I feel like journalism is the perfect field for me," said Caballero, who lives in Meadowview. "It encompasses my passions of photography and videography, and writing about social issues."
Caballero first appeared in this column in 2017, when he was in Access Sacramento's Neighborhood News Youth Correspondents Program, or NNYCP, which is sponsored in part by The California Endowment.
Access Sacramento, a nonprofit public-access television/radio station, launched the program in 2012. Until December, the young correspondents met in a newsroom in the garage of a Tahoe Park home owned by Isaac Gonzalez, NNYCP's founding director. This year they have met at Capsity Coworking in Sacramento under a new director, Maria Madril Hernandez.
On average, each correspondent works four months, earning minimum wage while learning the basics of broadcast journalism, from shooting and editing videos to writing on-air scripts.
About 50 students have gone through the program, with the current team consisting of five youths, ages 17 to 24.
Caballero, it turns out, was a youth correspondent longer than usual – a total of nearly four years, until December.
In 2017, the Kennedy High graduate expressed pride in being in the program. He was already sold on a career, saying then, "I want to someday be an actual journalist. I enjoy doing local stories, stories that matter to people."
He filed what he called his biggest one in 2016, when Trump was running for president on an anti-immigrant platform. Caballero interviewed local undocumented immigrants, who told him that if Trump became president, they would avoid talking to the police or even going to a hospital for fear of being deported.
"If people are in danger or sick, you want them to get help," Caballero said.
With City College closed due to coronavirus, he's taking online classes. He eventually plans to attend Fresno State University, where he will major in journalism and communications.
After toiling as a pro newsman, covering traditional beats like the courts and City Hall, Caballero wants to open his own journalism academy. In it, he will impart a key lesson he learned from Gonzalez, the former NNYCP director: Always be factual, always tell the truth.
"… Journalism is the perfect field for me."

Ivan Caballero
Freshman at Sacramento City College
To see reports filed by Access Sacramento's neighborhood news youth correspondents, visit www.accesslocal.tv