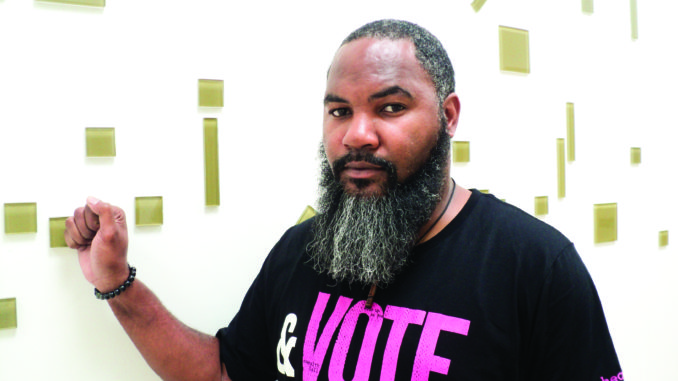 BY EDGAR SANCHEZ
It happened six months ago. But for some Sacramentans, the grief over the slaying of Stephon Clark continues unabated, as if he died yesterday, community activists say.
Clark, 22, an African American, was shot in the backyard of his grandparents' Meadowview home the night of March 18, by police responding to a 911 call that a man had jumped a residential fence after smashing car windows.
Believing Clark pointed a gun at them as they approached, two officers — one of them black — fired 20 rounds at him, killing him. Clark, it turned out, was carrying only an iPhone.
Daniel Hahn, then seven months in as the first black chief of the Sacramento Police Department (SPD), was already tackling bias among his rank and file when Clark was shot.
Three weeks after the incident, Hahn told McClatchy newspapers he was working with academics to develop implicit bias training for his force. The goal of this training: to reduce or eliminate discriminatory behavior by making officers aware of subconscious stereotypes that even progressive people may have against minorities.
"Implicit bias training is
only one step. More needs
to be done."

Ryan McClinton
Community organizer, Sacramento Area Congregations Together
While such training is good, it is not enough, according to concerned activists, including Ryan McClinton, who said they have asked Hahn to "adjust" the training to include cultural and Restorative Justice classes that would be taught by community members.
Those ready to teach such classes, to perhaps change the policing culture, include local lawyers, doctors and faith leaders, said McClinton, a community organizer for Sacramento Area Congregations Together (ACT).
"We've been told by SPD that it is willing" to incorporate community-led training into the bias instruction, McClinton said this month. "Now, it's just a matter of scheduling."
According to McClinton, the Rev. Ben McBride of Oakland, who has taught Procedural Justice to that city's police and who has provided training/consultation to other police agencies nationwide, also wants to train SPD employees.
On another front, McClinton noted that police "see the worst parts of humanity" as they respond to murders, rapes and other horrific crimes daily. He believes patrol officers should occasionally rotate to non-traumatic in-house jobs, before returning to patrol, to help them de-stress. "Re-assignment should be paired with 6 months of mental health and trauma informed therapy for those officers," McClinton said.
The Sacramento County District Attorney's Office continues to investigate the Clark shooting. No charges have been filed against either officer. Meanwhile, McClinton said, many African Americans fear the police.
Sacramento ACT is a multi-faith organization that seeks "a more just and fair community" for all, with the support of The California Endowment.
Click "Learn More" below to find out about Sacramento Area Congregations Together