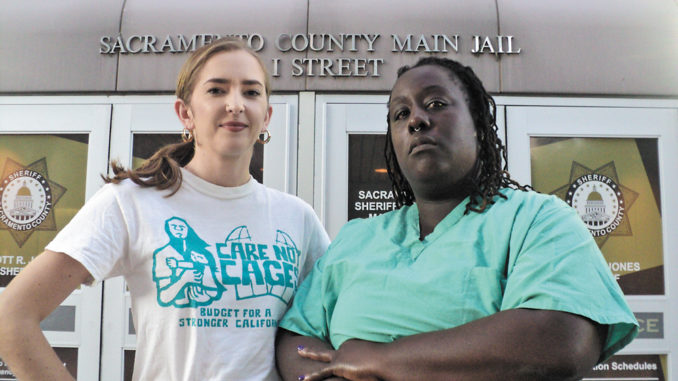 BY EDGAR SANCHEZ
Just this month, in a stunning move, the Los Angeles County Board of Supervisors voted 4-1 to scrap a $1.7 billion jail project. Officially, the project was meant to replace the Men's Central Jail in the heart of downtown LA with a "mental health treatment center." But opponents of the project argued that community-based treatment centers provide better services than mental health jail facilities.
This decision may have a ripple effect on other cities when it comes to the development of new lockup facilities. In California's capital, criminal justice activists want the Sacramento County Board of Supervisors to follow suit, urging them to abandon plans that would expand county jails.
As the L.A. decision showed, Sacramento could reject the expansion of the Rio Cosumnes Correctional Center (RCCC) in Elk Grove and avoid spending $89 million on the project. According to activists, Sacramento could also save an additional $21 million—money that would be diverted from human assistance and child services—if it didn't expand the downtown county jail.
Thirteen members of Decarcerate Sacramento, a group of nonprofits and private citizens opposing the expansions, gave an earful to the Board of Supervisors on July 16, as bids for the RCCC project poured in. The county received $80 million from the state for the RCCC project—money taxpayers must repay. The county will provide $9 million in matching funds. The project calls for seven new buildings that, among other things, would support medical and mental health programs with 26 beds that jailers say will improve services for RCCC inmates.
"Over 50% of the people in county jail have been diagnosed with a mental illness."
Courtney Hanson

Courtney Hanson
Activist, Californians United for
a Responsible Budget (CURB)
But Decarcerate Sacramento partners, including Sacramento Area Congregations Together, which is supported by The California Endowment, maintain that the county should prioritize diversion instead of planning for a future with more incarceration. They also maintain that jails are not the best settings for mental health services.
"Over 50% of the people in county jail have been diagnosed with a mental illness," speaker Courtney Hanson told the board, "and if you don't have it when you go in, there's a good chance you'll get it from being in the jail."
Asantewaa Boykin, a registered nurse from a local hospital's ER, also blasted the board. She said it would be "irresponsible" to expand funding for jails while reducing allocations to health and family services if the goal was to help balance the fiscal 2019-20 budget.
"I ask that our citizens not lose valuable services to pay for the inhumane conditions in your jails," Boykin told the board. "The current system is not working. Let's be an example of how to fix it, instead of expanding it."
For more info: Decarcerate Sacramento will host a
two-hour public forum at 6 p.m. Sept. 4. 2019
Click "Learn More" below to get involved.