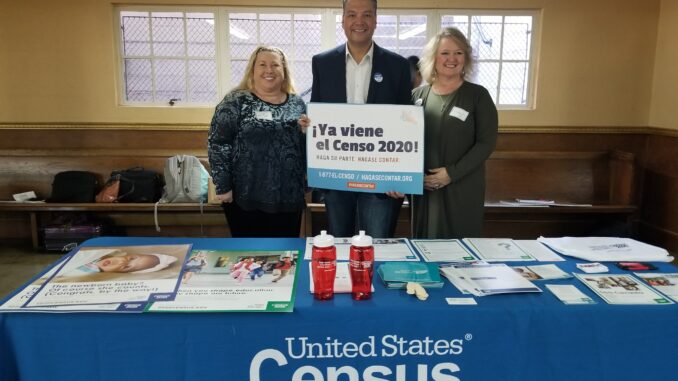 California Rural Legal Assistance is making inroads in the Census count
By Allen Pierleoni
In case there's any question about who is eligible to be counted in the 2020 Census, the U.S. Census Bureau makes it clear: Everyone living in the United States and its five territories, including citizens, non-citizen legal residents, non-citizen long-term visitors and undocumented immigrants.
But counting everyone is an ongoing challenge, complicated by the task of reaching people in small communities in rural areas. A case in point is the San Joaquin Valley, where some Census tracts have lower response rates than others.
"The low-response rate is partly due to many homes in the area not receiving Census ID invitations because they're in post office box communities," says attorney Reina Canale of California Rural Legal Assistance Inc. She serves as its 2020 Census Coordinator.
Also, she says, because of COVID-related social-distancing mandates, Census packets were not personally dropped off to households until July, causing delays.
To foster inclusion, CRLA is focused on farmworker outreach in Fresno, Tulare, Kern and Stanislaus counties as well as such other rural counties as Mariposa and Merced.
"CRLA has been a partner of the California Census for several censuses," Canale says. "As a trusted messenger of the community — with cultural sensitivity training and the ability to provide services in the native language of community members — we're able to help educate hard-to-count populations."
"Neither a COVID-19 pandemic nor 100-degree-plus heat waves nor fires nor hazardous air quality stays farmworkers from being the essential workers who pick the produce that feeds our entire nation," Canale says. "By being counted in the 2020 Census, increased tax revenue will be available to ensure that farmworker communities have the food, shelter, and medical care that they require to overcome the pandemic and recent fires."
Recently, CRLA's Farmworker Agriculture Program partnered with the Census Team in Kern and Tulare counties to distribute educational material and protective masks, Canale says. "I've noticed a sizable improvement in response numbers since the partnership," she says.
Still, obstacles remain. Anxiety over confidentiality issues lingers, and many rural residents are unsettled when strangers — Census enumerators and expediters — show up at their front doors.
Despite such concerns, CRLA is making inroads, Canale says. CRLA's Census Community Workers have conducted know-your-rights training, participated in food drives and mask distribution events, staffed phone banks, and posted educational material on social media.
A new sense of urgency has permeated recent messaging as the Census deadline draws closer, compounded by the fact that resources predicated on the Census count are needed to fight the pandemic and deal with food insecurity, unemployment, housing, and health and education concerns.
"In addition, tax revenue based upon the 2020 Census count will provide essential funding to improve local schools and establish after school programs to the community, which is key to helping their children break out of the cycle of generational poverty," she says.
Canale wants to emphasize this reminder: "All of us count equally under the Census. Spread the word of the importance of participation as an ambassador to your friends, family, coworkers and social media followers."
For more information and to complete the Census, visit www.my2020census.gov.