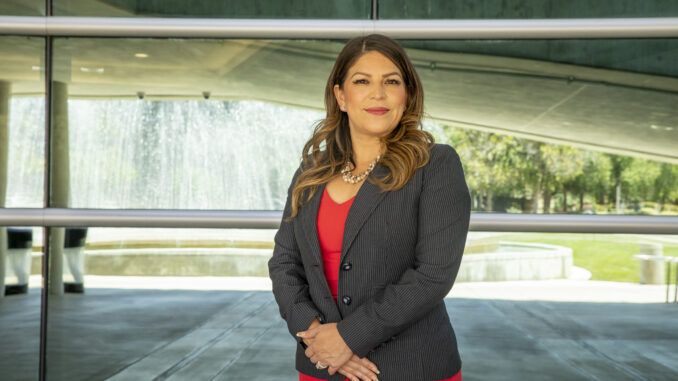 by Jill Spear
Esmeralda Soria knows the power Latina women can have. The daughter of a farmworker from a poor family, the Fresno City Councilmember became involved in leadership development studies while she was still in high school. The lessons she learned made a powerful impression.
"If we're not at the table, we'll be on the menu," Soria says.
Born in Lindsay in Tulare County, she grew up in a family that emphasized hard work. Her father had a seventh-grade education, and her mother had a ninth-grade education, later earning her GED. After high school, Soria gained admission to the University of California, Berkeley, where she majored in political science and Chicano studies.
"I've always had to work twice as hard as others," she says. "I had to take remedial English my first semester at college. There are moments in life where you question if you belong, so I knew I had to put in extra effort."
That effort has paid off. Soria is both a Fresno City Councilmember and professor at Fresno City College, where she teaches political science and constitutional law. "It's incumbent on us to write our own story," she says. "It could be through your church or your school board, as long as we make sure our voices are heard where they're not traditionally heard."
Just a year after moving to Fresno in 2012, she was running for city council. "When I ran, I was an underdog as a Latina woman."
"I've had to learn to work in that environment," she adds. "You have to network and build relationships to create change."
Soria was determined to empower Latina women, which minimizes the impact of big money. "I wanted to help the Latina community gain a voice by voting. I saw how disadvantaged my parents were, and I learned that through advocacy you can change things."
One of Soria's allies in making a change has been Communities for a New California Education Fund. "They're a longtime advocate in the Central Valley for investments in the disadvantaged community," she says. "They do a lot of door-to-door work on critical local issues."
In her position of power, Councilwoman Soria focused on making a positive impact on the families and neighborhoods she represents. For those who wonder whether the work is worth it, Soria talks about the changes she's seen during her time in office. "We've begun to see a shift in the narrative in our community. Community advocates have helped others recognize the disadvantages that communities of color face."
During her time as a councilmember, Soria has worked on three main issues: housing, investing in disadvantaged communities, and parks that have been forgotten. "I wasn't successful right off the bat, but six years later we were able to build affordable housing for 88 families. I've also been instrumental in the park conversation, advocating for increased funding for city parks."
With the creation of three new Latino-majority districts in the San Joaquin Valley, Soria urges voting and community involvement. "The 2022 midterms are very critical for representation," she says. "We must make sure that our voices are heard."
After more than seven years of public service, Soria will be leaving the council in December. One of her wishes is to see the next generation of Latina women embrace leadership roles.
"I'm glad to take any opportunity I've had to share my story with young women," she says. "They understand that life will not always be easy, but they have the power within themselves. It's a matter of staying committed to your goals and working hard at it."
To learn more about what CNC does for communities and how you can get involved, visit www.cncedfund.org.