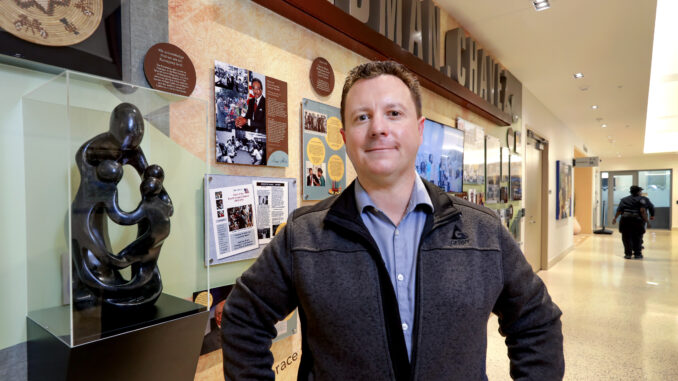 by Gail Allyn Short
Though they fought in wars and helped keep peace around the world, after their service ends, some military veterans return home to find themselves in another battle: homelessness.
The reasons for homelessness among veterans can vary, says Mathew Brown, Chief Agency Operations for San Diego County's Department of Homeless Solutions and Equitable Communities, Office of Homeless Solutions (HSEC). "It can be mental health or substance abuse issues or just an unfortunate turn of events in their lives," Brown says.
For some veterans in San Diego, the biggest barrier is often the cost of housing, Brown says.
"There's a scarcity of available and affordable units, he says. "The challenge is that the fair market value of a rental unit is high, and that's oftentimes more than one individual can afford."
HSEC works with various agencies and nonprofits to help people gain access to housing through outreach, evidence-based programs and case management.
"The overarching focus of the department is to achieve better coordination of existing and new county homeless and equitable community efforts, and serve as a central point of collaboration amongst all San Diegans to reduce homelessness in the region," Brown says.
HSEC, for example, teams up with multi-disciplinary teams countywide for street outreach to make initial contacts with the unhoused. HSEC has social service case managers who help veterans navigate various programs to access food, medical care and employment, as well as housing.
"The important thing when working with individuals experiencing homelessness is to really get to know them and their individual situations, identifying the barriers that are preventing them from their housing goals, and then systematically removing those barriers and helping them to stabilize and achieve those housing goals."
During fiscal year 2022-2023, HSEC connected 1,775 people experiencing homelessness to shelter and housing, he says.
One of HSEC's partners is the county's Housing and Community Development Services, which administers the Veterans Affairs Supportive Housing program in San Diego. VASH is run through a partnership between the U.S. Department of Housing and Urban Development and the U.S. Department of Veteran Affairs. Through VASH, veterans receive vouchers to help them afford housing, as well as guidance from case managers and access to supportive services, such as financial counseling and substance abuse counseling.
HSEC also works to prevent homelessness by partnering with local agencies to help what Brown calls "specialized populations," including veterans.
"A pilot program launched this year was the Senior Rental Subsidy Program. This is a true prevention program. It will help 222 eligible seniors stay in their homes by providing a $500 rental subsidy for the next 18 months," he says.
Another program, focused on justice-involved veterans, is the Community Care Coordination for Veterans, or C3V.
"These are veterans who have additional barriers to housing programs because of involvement with the justice system. And C3V is designed to provide case management and housing to that specific population," he says.
While some veterans can be reluctant in seeking help, Brown says HSEC is determined to continually offer housing solutions until a veteran is ready to accept assistance..
"That sometimes takes a lot of different interactions. It may in fact require time and relationship-building, but it's worth it and we'll be there, when they're ready, to help navigate them through the system and into a better place," he says. "Housing is a right, and we want to make sure that we create and maintain a system where it's available to everyone."
For more information on Homeless Solutions and Equitable Communities, visit https://www.sandiegocounty.gov/content/sdc/hhsa/programs/hsec/OHS.html.