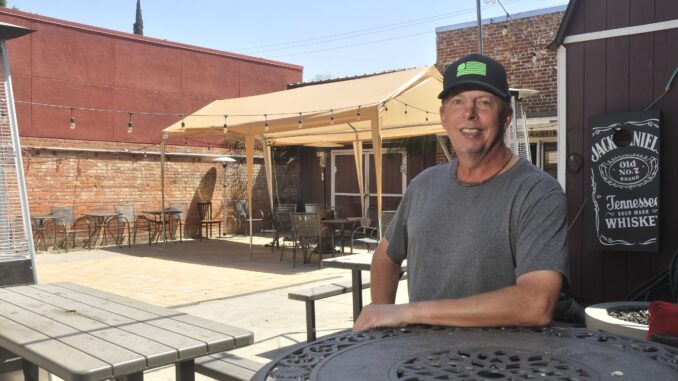 Del Paso Boulevard landmark made several renovations
by Allen Pierleoni
The dance floor and bandstand area inside Stoney's Rockin' Rodeo was eerily quiet, but the echoes of ass-kickin' music and the stomping of sweaty dancers seemed to haunt the space. Was that a distant "yee-haw!" we heard, and the quick note changes of a fiddle?
Stoney's co-owner Kevin Lutz (with wife Barbara Reese) was showing us around, pointing out the improvements he's made during the on-again, off-again pandemic shutdowns of the past year. (A much bigger Stoney's project involving structures next door is in the works, but hold your horses….)
The front bar was redone in earth-toned chiseled magma granite, and a handsome new oak floor gleamed in the dim light. Interior windows were removed to improve sightlines, and the upstairs area will be opened up for views of the dance floor.
In pre-pandemic days, the back room — "the country music area," complete with barnwood walls — is where the bands set up and patrons filled the floor for line dancing, couples dancing, two-step, West Coast swing and cowboy swing.
The dance floor has been refinished, and new tables and bar stools are coming, Lutz said. A signature row of guitars lines one wall, autographed by celebrity country singer-songwriters who have played Stoney's, including Thomas Rhett, Chris Young, Terri Clark and Dustin Lynch.
Stoney's is a party on the way back to normal, with ongoing special events and theme nights — with pandemic protocols. "We hosted a band one night recently, but we still want our patrons outside on our patios for safety," Lutz said.
Stoney's is also a dinner house, with prime rib and ribeye steaks served indoors and outdoors. The big addition is food service from nearby True North Pizza, which is quickly becoming a destination in itself.
Stoney's Rockin' Rodeo is a Del Paso Boulevard landmark, a mainstay that opened in 2007.
"I've been in the restaurant business all my life," Lutz said. "(Part of that) was opening restaurants for major chains and doing very well for them. I realized if I ever wanted to do well for myself, I should open my own business."
Country dance clubs vanished from the Sacramento entertainment scene around 2006, Lutz said, so there was a gap to fill. "At first, I thought maybe it was a crazy idea to put a country bar on Del Paso Boulevard, but then I realized we just have to get people here one time and they'd become regulars. That's just what happened. We have a huge following and people drive from all over the state to be here."
Indoor dancing is on hold at Stoney's, but what is it about the structured art form that draws overflow crowds?
"It makes people happy," Lutz said. "It's like an aerobics workout, yet you're in a social gathering. You're sweaty and excited and you feel better about yourself, and it's fun watching the amazing dancers who come here."
Now, about that upcoming major expansion next door: It will include an arcade room with electronic games and pinball, a VIP rental room with a pool table and big-screen TVs; and a room devoted to simulator golf.
Outside, Lutz is planning on an outdoor beer garden, open-air patio with retractable roof, and a bar with pool tables and dart boards.
"As soon as we get the financing (from Tri-Counties Bank), everything will start rolling," he said.
"With what we're doing here, we feel that 70 to 80 percent of Sacramento will come to Stoney's or hit Del Paso Boulevard over the next few years," Lutz said. "The boulevard is changing, which is how we get people here to enjoy a safe experience."
Through it all, the Del Paso Boulevard Partnership helped Lutz acquire grants and other financing, he said. The nonprofit DPBP offers promotion and assistance to area merchants and property owners.
"The energy and crowds that businesses (like Stoney's) are drawing really help build our momentum as we look past COVID-19," said DPBP executive director Daniel Savala.
Stoney's Rockin' Rodeo is located at 1320 Del Paso Blvd., Sacramento. Hours: 5 p.m. to midnight Wednesdays through Saturdays. Call 916-927-6023 or visit www.stoneyinn.net