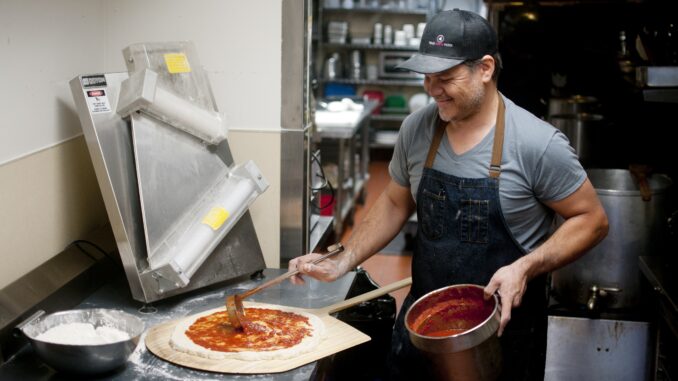 New 'hole-in-the-wall' takeout window opens off Del Paso Boulevard
by Allen Pierleoni
We were talking with All Seasons All Reasons Catering co-owner and operations manager Vanessa Garcia in an upstairs conference room, yet still the tantalizing aromas wafted up from the industrial kitchen below. Was that pastrami roasting in a pan? Maybe hand-formed meatballs slowly simmering in a big pot?
Vanessa's husband, Joshua Garcia, bought the Curtis Park-based catering company in 2004. "We needed to expand and found this location in 2014," Vanessa Garcia said. It's just off Del Paso Boulevard, in an industrial area.
"The move was about spreading out for the logistics we needed," she said. "It was the perfect spot." It's a family-run affair that includes kitchen manager Autumn Garcia, Vanessa's sister-in-law.
But we were there to talk about True North Pizza, which was a pandemic-induced pivot that opened at the All Seasons site in December. It operates as a phone-in take-out and delivery model, literally a "hole in the wall." That's because the Garcias installed a walk-up window into the front wall of the building, where customers and app delivery drivers can pick up orders.
All Seasons was "fully booked for months" in March 2020. Then came the lockdown and "'gather' became the new four-letter word," Vanessa said. Within two weeks, 120 clients called to cancel or postpone their events.
The Garcias' first pivot was to "cater" small events by having food ready for pickup, for a minimum of 10 people. The second was Joshua Garcia's vision for a smaller, more focused takeout operation from a walk-up window.
"We weren't going to put chicken cacciatore out of a window, so we decided it had to be pizza," Vanessa said. "It's contained, it travels well and the entire family is happy when you bring it home."
The pizza menu has a navigational theme that matches the True North star-oriented name. One pie is named Orion, a constellation; another is Andromeda, a galaxy.
"We had a couple of wine-drinking nights with graphics and logos and decided on True North," Vanessa said. "We've always been telescope junkies, looking at the night sky. It's just some of the creative freedom that comes with having a small business."
The walk-up window is a piece of that. "We think an industrial-area pizza window is super-cool," Vanessa said. "That's the gritty city, and consumers love to find these small hole-in-the wall restaurants and tell their friends."
Still, True North has the full weight of a catering company behind it, staffed with veteran cooks who know how to source and employ quality ingredients.
For instance, the kitchen developed a new dough and style for the True North pizza, far removed from its catered pizzas.
"The kitchen went through trays of different doughs for weeks, to finally says, 'OK, this is the one True North is going to use," Vanessa said. Not only is it from scratch and hand pulled, but undergoes a three-day rise. Which means the yeast and sugars have plenty of time to work the chemical magic that adds flavor and airiness to the crust. (True North's pizzas also are served at nearby Stoney's Rockin' Rodeo.)
Also, the sauces (including pesto) and salad dressings are made in house, the Italian sausage is hand-made, and the meats for the sandwiches (meatball, Italian roast beef, pastrami, fried chicken) are prepped and cooked on site.
For the past month, All Seasons' phone has been ringing "with catering postponements that are coming around." Vanessa said. "But we don't intend for True North to go away as catering comes back."
Through it all, the Del Paso Boulevard Partnership "has been incredibly supportive," she said. The nonprofit offers promotion and assistance to area merchants and property owners.
"The energy and crowds that businesses (like True North Pizza) are drawing really helps build our momentum as we look past COVID-19," said DPBP executive director Daniel Savala.
True North Pizza's walk-up window is at All Seasons All Reasons Catering, 2135 Dale Ave., Sacramento. Hours: 3 to 8 p.m. Thursdays through Mondays (open until 9 p.m. Saturdays). Call (916) 993-8961 or visit www.truenorthza.com.