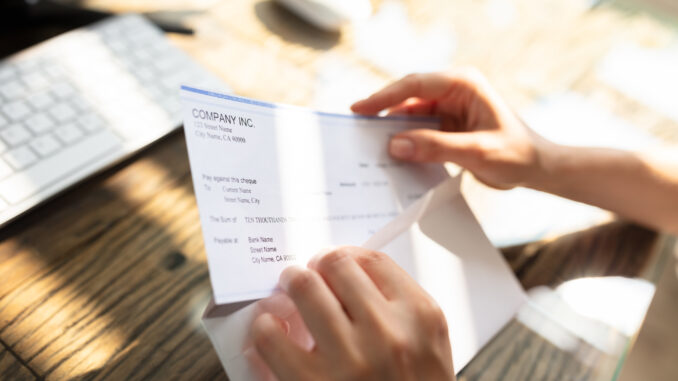 by Corey Rodda
Child support payments ensure that children have access to health insurance, shelter, food and clothing. And businesses large and small play a role in delivering these vital payments through wage attachment.
Danielle Wolselben has set up wage attachment services for hundreds of employees during the 22 years that Econo Lube N' Tune has been changing brakes and oil. Now with a shop on Fulton Avenue in Sacramento, at one point she and her husband, Jeff Wolselben, operated five different locations.
"It is a benefit to the person on the other end," Danielle Wolselben says. "Typically in our situation it is the father who is responsible for paying child support for their children. So I think that it is a benefit for their child to get the payment that has been established by the court system."
A wage attachment automatically deducts child support from a child support payer's paycheck and sends it directly to the California State Disbursement Unit, which distributes it to the appropriate party. The automated process frees the child support payer from having to submit an electronic or check payment on a monthly basis and ensures that the payment is timely and consistent. It also avoids penalties: When a payer misses a child support payment, he or she is required to pay interest on the missed payments. This interest can add up quickly and be crippling.
Wolselben says the process to set up wage attachment is easy and takes her less than five minutes. She fills out a form documenting her employee's pay rate, structure and the amount of back pay they owe. Then she mails this paperwork to Sacramento County DCSS. After the form is processed, her employee's wage attachments are sent directly through Econo Lube N' Tune's payroll system.
"I don't touch it again unless there is a change in the employee status," Wolselben says.
If this happens, Wolselben simply fills out another form notifying SCDCSS that the person is no longer employed at Econo Lube N' Tune to cease the wage attachment order.Since Econo Lube N' Tune opened its doors in 1998, Wolselben has witnessed the process become more streamlined as confusing technicalities have been ironed out and more counties have adopted standard wage attachments forms. At one point, she would have to send out wage attachment checks on behalf of the county. Thankfully, that paper trail is a thing of the past.
Other Ways to Pay
SCDCSS offers its clients several different ways to pay child support.
ExpertPay: Pay child support directly through your bank account each month through ExpertPay. It can take up to 10 days for payments to be transferred after an account is initially registered on ExpertPay, so it is important to set this up as soon as possible. www.expertpay.com/obligorapp/#/login
Checking Account: Make one-time payments using your checking account or debit card. Payments will be transferred on the same day or two days later, depending on the time of day when the payment is made. childsupport.ca.gov/state-disbursement-unit/
Paypal: Pay child support through PayPal. There is a 2.49% processing fee and a three-four day processing period. www.childsupportbillpay.com/Payment/SelectEntity/793
MoneyGram: Pay online through MoneyGram or by visiting a MoneyGram location at CVS, Raley's/Bel Air, Walmart and Advance America (Receiver Code 14630). It typically takes one day for these payments to process and there is a convenience fee. www.moneygram.com/mgo/us/en/m/child-support-payments
PayNearMe: Get a personal barcode from https://www.paynearme.com/s/8873/b/WC6j0Q/edit or by contacting SCDCSS. Then present this barcode, which is reusable, at 7-Eleven, Family Dollar, Casey's General Store, CVS and ACE Cash Express stores to make your child support payment. There is a $1.99 fee to use PayNearMe, which can take up to four days to be posted to the child support account.
Phone: Pay by phone by calling the California State Disbursement Unit (SDU) at 1-866-901-3212.
Paying Cash: Pay with cash onsite through a kiosk. Location: SCDCSS, 3701 Power Inn Road, Sacramento, CA 95826.
Check: Bear in mind that paying by check is the slowest and most insecure payment method. If your child support case is not managed by a public agency, call 1-866-901-3212 for pay-by-mail help. If your case is managed by Child Support Services, mail a check payable to CA SDU, and mail it to CA SDU, PO Box 989067, West Sacramento, CA 95798-9067.
For more information, visit the payment options website at California SDU: https://childsupport.ca.gov/payment-options/