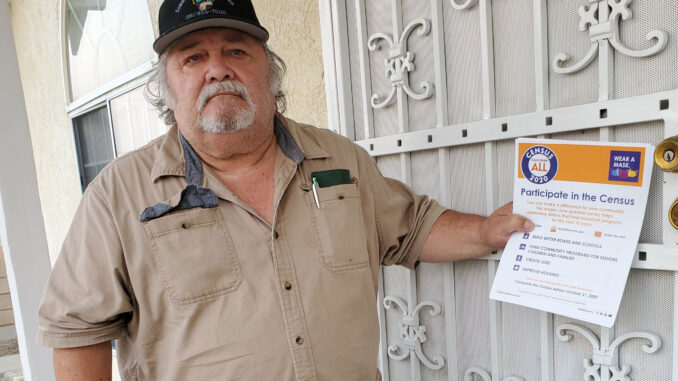 BY ANNE STOKES
Reaching out to communities the old-fashioned way

What can you do with $20,000? Buy a new car? Make a down-payment on a home? Take a luxury vacation (pre-COVID, of course)?

In many San Joaquin Valley communities, that money can be used to create vital infrastructure taken for granted elsewhere: Hospitals, electricity, clean water, paved roads and — with COVID-19 school closures — internet access so kids can "go" to class.

It's estimated that every person counted in the upcoming census will bring in as much as $2,000 a year in federal funding for the next 10 years. In rural Kern, Tulare and Fresno counties, that money could go a long way in making life better for hundreds of thousands of people — but those people have to be counted.

"That's pretty extreme, especially in communities that are deprived of so many things," says Lupe Martinez, assistant director of the Center on Race, Poverty and the Environment (CRPE). "In the San Joaquin Valley, we have around 125 communities that do not have natural gas. They are cooking with propane, they're cooking and heating their homes with wood."

Martinez says CRPE is facing many obstacles to getting people to participate in the Census including COVID-19 concerns, language and literacy barriers, a lack of awareness of what's at stake and a lack of access, particularly internet access.

"The reality is that these folks have gone without for so long in so many of these communities that it's pretty hard for them to comprehend what they're able to do if they count themselves and what they can do for their community," he says.

Sometimes there is no substitution for boots on the ground. While the Census can be answered online, many rural residents and agricultural workers don't have internet access. And whether it's due to a language barrier or general information, many also need help filling the form out. CRPE canvassers are reaching out to help the old-fashioned way — face-to-face.

"What we're doing is going door-to-door," says Martinez. "We can walk them through and get it done. We've been successful at this point. It's been slower, but it is happening and we are getting good results."