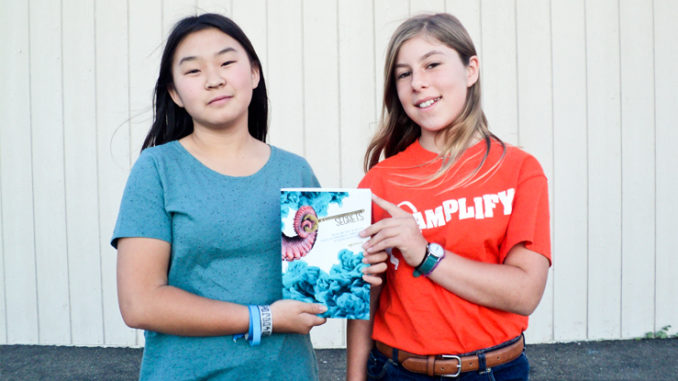 BY EDGAR SANCHEZ
Three months ago, Molly Seely began a new chapter in her life by attending Amplify — a week-long summer camp for girls and boys in South Sacramento.
Like traditional camps that involve nature hikes and canoe trips, this camp unfolded in a creative writing center, where everyone learned to craft better fiction, poetry and nonfiction.
The literary camp, led by adult writers, was created by 916 Ink, a nonprofit supported by The California Endowment.
"I've been writing poetry and short stories since I was eight, maybe earlier," Molly, a 6th grader at Sacramento's Alice Birney Waldorf School, said recently. "Amplify is a great program. You can work on your writing techniques and get feedback."
The highlight was in September, when Molly and other camp graduates returned to 916 Ink for a book-release party. More than 40 youth received copies of Secrets, a 260-page professional anthology of their best writings from camp.
"I was pretty excited having my works published," said Molly, 12, who opened Secrets to find two of her poems and a short story in it.
Equally thrilled was Autumn Peterson, a 7th grader at Golden Valley River School in Orangevale, who contributed three poems to the book.
"I'm really proud I put my work out to the public," said Autumn, who began writing short stories and poetry early last year.
Like many writers, Molly and Autumn occasionally experience writer's block.
"Writer's block is a dreaded thing," said Autumn, who turned 13 this month. "When it pounces on me, I try to find inspiration by looking outside through a window. Other times I take a break."
"I was pretty excited having my works published"

Autumn Peterson
Published Author, Secrets
Helping youth appreciate the power of the written word is 916 Ink's mission.
In the last nine years, the nonprofit has produced more than 140 anthologies with the writings of over 3,500 youth throughout the Sacramento area according to Ian Hadley, executive director of 916 Ink. Some of the authors attended 916 Ink workshops at their schools; others wrote during various programs at 916 Ink.
"One of my favorite moments is seeing the young authors' proud smiles when they receive copies of their published work," Hadley said. "Publishing is an important milestone in the program."
"It shows the youth that their stories matter and that they deserve to be heard."
Autumn and Molly have joined the Author's Lab, an after-school workshop for advanced creative young writers that meets Tuesdays at their headquarters in South Sacramento.
For more information about 916 Ink, click "Learn More" below.