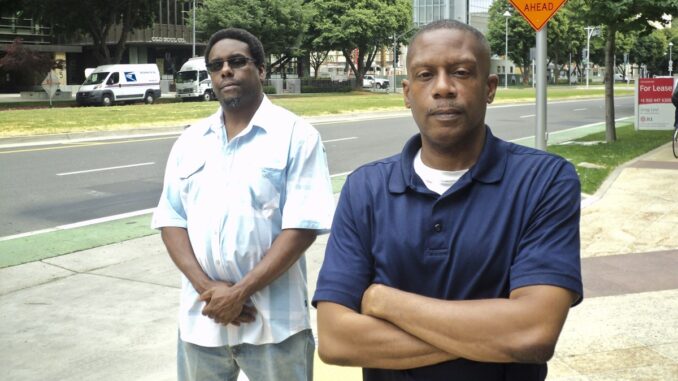 by Edgar Sanchez
Aaron Howard obeys the rules. And now that he's trying to get back into Sacramento's legal cannabis sector, he has a partner in his brother Julian, a truck driver who will deliver the goods.
"To be competitive and to open the businesses we're planning, we need funding," Aaron, 47, said recently, noting that access to capital is a barrier to launching weed ventures — especially for people of color.
The good news: In April, the City of Sacramento announced it had been awarded a $3.8 million state grant to provide no-interest loans for cannabis business start-up costs.
Loan applicants must have gone through the city's Cannabis Opportunity Reinvestment and Equity program, or CORE, which trains minorities on how to operate legal pot enterprises.
Julian and Aaron are eminently qualified, having graduated in December from the first CORE class at the Greater Sacramento Urban League (GSUL).
Mayor Darrell Steinberg witnessed the graduation, applauding the 13 graduates.
Another 50 students completed CORE training late last year at the Sacramento Asian Chamber of Commerce.
The $3.8 million grant is from the Governor's Office of Business and Economic Development (GO-Biz), in partnership with the Bureau of Cannabis Control.
"This money will help correct some of the historic inequities … in the legal cannabis industry by creating a pathway for business ownership" by minorities, Davina Smith, head of Sacramento's Office of Cannabis Management, said in a press release.
Aaron Howard launched his first medicinal cannabis business in 2014. He and his associates cultivated marijuana plants in a local home, with Aaron ensuring the tiny firm broke no laws.
Then, in 2017, a city official told him that Sacramento's evolving marijuana-grow rules had changed again.
"He said I needed to close down until I found a commercial building in an industrial area," Aaron said. The move would have cost $23,000 annually for a temporary city permit, excluding other fees.
Unable to relocate, Aaron closed his business.
Grateful for a new opportunity, he and Julian will seek at least $25,000 each in GO-Biz loans toward their new dream.
Besides trucking expertise, Julian, 50, has "people skills and an ability to creatively think outside the box."
As of mid-May, the city had not announced the max amount for GO-Biz loans, or when it would begin accepting loan applications.
The funds must be disbursed by Aug. 31, 2021, city spokesman Tim Swanson said.
The tuition-free CORE program was proposed by activists, including Malaki Seku Amen of the California Urban Partnership, which is supported by The California Endowment. Attorney Brenda Davis, who directs GSUL's CORE program, also fought for its creation.
Deemed essential businesses, marijuana dispensaries have remained open amid COVID-19.
" … We need funding."

Aaron Howard
CORE Program graduate
For more info, Google City of Sacramento CORE Program