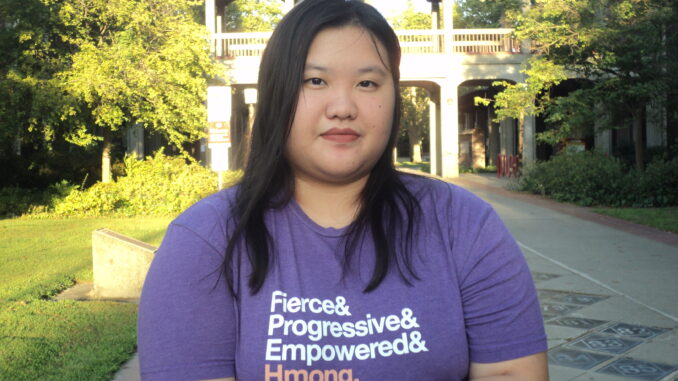 BY EDGAR SANCHEZ
As a newcomer to Sacramento, Katherine Moua admits to not knowing much about Mayor Darrell Steinberg – except that he wields power and influence at City Hall.
But when she learned that Black Lives Matter would hold a "die-in" near Steinberg's home, the Sacramento City College freshman had to be there.
"BLM's fight is our fight, because BLM is not just fighting for Black lives, it is fighting for minority rights," the Fresno-born daughter of Hmong refugees from Laos said recently.
The June 5 "die-in" was part of a national uprising against police brutality prompted by the videotaped murder of George Floyd by Minneapolis police 11 days earlier. The ongoing protests spread around the world.
Floyd's brutal death alarmed the 19-year-old Moua.
A videotape showed police officer Derek Chauvin pressing his knee on the neck of the handcuffed African American, ignoring his repeated "I can't breathe" cries. Three fellow officers, including a Hmong American, did not intervene, the video showed.
"I only watched about two minutes of the video, on the internet. That was all I could stand," Moua said.
After moving here a year ago, Moua began volunteering at Sacramento's Hmong Innovating Politics, or HIP, a grassroots organization supported by The California Endowment.
On June 5, she and two HIP colleagues drove to Steinberg's Pocket neighborhood, where a multicolored sea of diversity was forming. Over 1,000 demonstrators of all races and backgrounds assembled peacefully to demand that Steinberg help defund the Sacramento Police Department and ensure that its officers respect Blacks and other people of color.
Displaying signs naming unarmed Blacks killed by police nationwide – from Floyd and Stephon Clark to Breonna Taylor – the activists raised their hands and shouted in unison, "Don't shoot!"
Then everyone laid down for eight minutes and 46 seconds, the time that Chauvin, now charged with murder, had his knee on Floyd's neck.
The silent bodies splayed along four blocks represented victims of police violence.
"We definitely sent a message not only to the mayor but to anyone watching," Moua said. "We want laws that protect African Americans and other people of color."
In a tweet, Steinberg called the demonstration "a powerful and necessary expression of the … demand for greater change in our city and in our country."
He promised to work with his colleagues and Police Chief Daniel Hahn toward new police reforms.
This was Moua's second protest. In 2018, she and other students walked out of Sanger High in Fresno County to press for safer schools and gun control.
"We definitely sent a message …"

Katherine Moua
Participant in recent "die-in" near Sacramento mayor's residence
For more information about Hmong Innovating Politics: