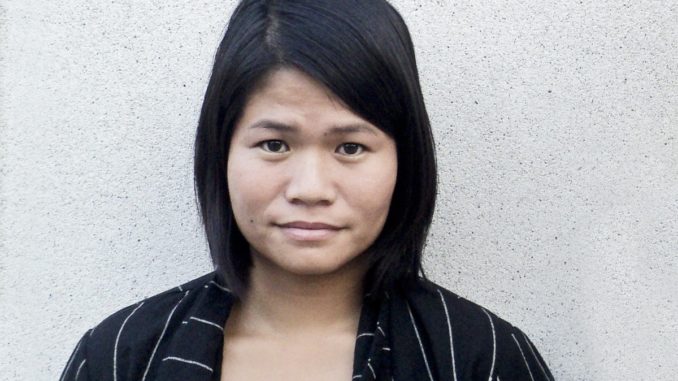 BY EDGAR SANCHEZ
Three years ago, Lan Nguyen, then a UCLA grad student, needed a subject for her Master's Thesis in Asian American Studies. Rather than pen a traditional research paper, Nguyen undertook something more daring: She made a documentary film about a family of refugees from Vietnam's indigenous tribes that was torn apart by stringent U.S. deportation policies.
Her explosive movie, "Fighting for Family," or FFF, was recently shown at Sacramento's California Museum.
The screening coincided with an exhibit co-sponsored by The California Endowment, about Californians sentenced as teens to long prison sentences, which, in the case of many immigrants, are followed by deportations.

"My main goal in making this movie was to spread awareness about incarceration and deportation of Southeast Asians," said Nguyen, 24, a U.S.-born daughter of Vietnamese refugees, who teaches Ethnic Studies at Cal State Long Beach. "People convicted of crimes aren't bad people. They're people who … make mistakes and have learned and grown from these mistakes."
FFF captures the story of Chuh A, who fled Communist Vietnam with his parents in 1996 when he was 13. The family settled in North Carolina, where Chuh fell in love with Rex, another refugee from Vietnam.
The couple had four daughters, now ages 6 to 14, but struggled to support them. He worked multiple low-paying jobs. She became a nail technician.
In an act of desperation he regrets, Chuh made extra cash by selling ecstasy, the party drug. Arrested in 2013, he was convicted of felony drug trafficking.
He served nearly three years in prison, during which his legal residency, or green card, expired.
Upon his release, Chuh was seized by Immigration and Customs Enforcement, which held him for 13 months before deporting him in 2017.
Since then Chuh has led a difficult life, mainly in Ho Chi Minh City, formerly Saigon.
He suffers discrimination and police harassment for being a Montagnard, an ethnic minority, and because his father fought beside U.S. troops during the Vietnam War. Chuh's drug-trafficking conviction further limits his job-finding ability.
"I always cry every night by myself … looking at my kids' pictures," Chuh says in the 31-minute movie, part of which depicts his reunion with Rex and the girls when they visited Vietnam last year. During the reunion, the couple wed.
Through video conferencing, Chuh answered questions from the museum audience. He said, for example, that being bilingual — he speaks Vietnamese and English — hasn't helped him get ahead in Vietnam, because the entire system seems to be against him.
The family is fighting for Chuh's return to America.
Under Trump Administration policies, 14,000 to 16,000 Southeast Asian refugees — some from Vietnam, some from other nations, and not all previously incarcerated — face potential deportation.
FFF was scheduled to return May 30 for the Sacramento Asian Pacific Film Festival, with Nguyen speaking. Coronavirus may delay the showing.
"I always cry every night by myself … looking at my kids' pictures."

Chuh A
Deported Vietnamese refugee in film "Fighting for Family"