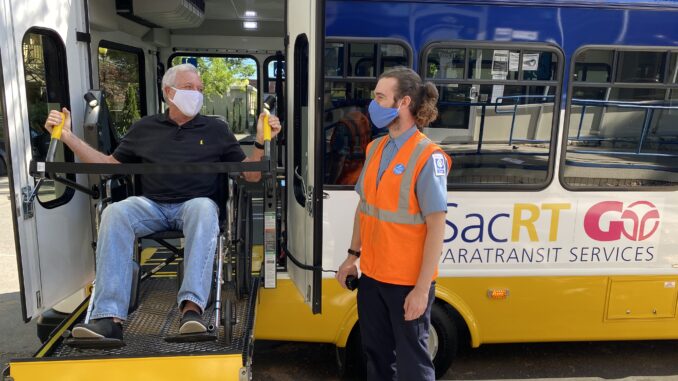 by Anne Stokes
For individuals with disabilities, reliable transportation is key to living an independent life. Sacramento Regional Transit District provides accommodating, reliable and affordable services to help riders with mobility, visual and other impairments get where they need to go.
Bus service
All SacRT buses are equipped to accommodate riders with mobility-related needs. Operators can employ ramps or lifts and lower buses to enable riders to make use of SacRT's services. Each vehicle has designated mobility device spaces and operators are trained to secure devices as well as assist with fare payment, boarding and exiting the bus. Seats located at the front of the bus are designated as priority seating for individuals with disabilities.
For riders with visual impairments, automated announcements notify riders of location, approaching stops, transfer points, major intersections and destination points.
Light rail service
SacRT light rail stations are also equipped with ramps and lifts. Seats at the front of the first light rail car are designated priority seating for seniors and riders with disabilities.
For visually impaired riders, boarding ramps feature Braille signage. When purchasing tickets and passes, fare vending machines have tactile and audio instructions. For safety purposes, stations and vehicles feature detectible warning tiles and door indicators. Similar to SacRT bus services, stops are announced to notify riders of location.
SacRT GO Paratransit Service
For riders unable to use bus or light rail services, SacRT GO Paratransit Service provides shared-ride door-to-door service. Riders must meet ADA eligibility requirements and complete an eligibility process. Operators are trained to provide appropriate assistance and other safety measures.
Reservations must be made by 5 p.m. the day before or can be scheduled up to two days in advance. Fares are $5 for each one-way trip and exact change is required. Monthly passes as well as single ride tickets are also available, which can be paid for by phone, mail or at SacRT's Customer Service and Sales Center (adjacent to the 13th Street Station). Monthly passes may also be purchased by phone or mail. For eligible riders, reservations can be made at 916-321-BUSS (2877), option 2. Information regarding eligibility and other information regarding SacRT GO can be found at www.SacRTGO.com.
Service animals
Service animals are welcome on board SacRT buses and light rail trains. Animals must always be under their handler's control and cannot pose a health or safety threat to other riders or they may be denied transportation. Emotional support animals are not qualified as service animals as they have not been trained to perform a specific task.
Call 916-321-BUSS (2877) or visit www.sacrt.com for more information regarding routes and services provided by SacRT.