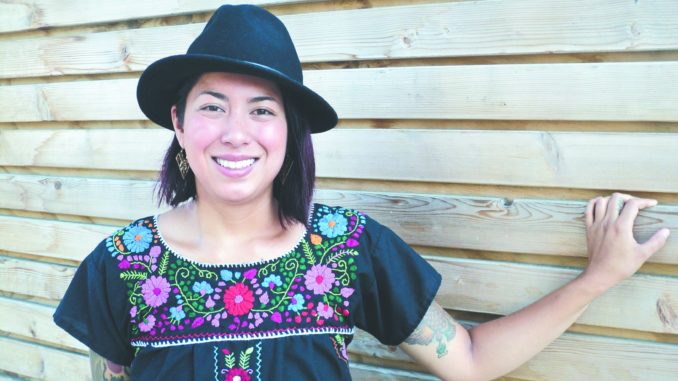 BY EDGAR SANCHEZ
Rubie Simonsen found her calling as a child, in her grandmother's lush gardens.
The little girl spent countless hours playing among miniature roses in front of her grandma's home, and by herbs in the backyard. Before long, the rambunctious youngster had a strong bond with dirt and the beautiful things that grow on it.
It was only natural, then, that in 2016 Simonsen began her studies to become a farmer.
After graduating from that program two years ago, Simonsen, 27, is now teaching 10 adults to be ecologically-sensitive farmers at a new academy in Sacramento's Oak Park neighborhood that calls itself 252 Evolver. Consisting of 10 evening workshops spread over five weeks, the program is sponsored by The California Endowment's Building Healthy Communities initiative.
Training for future farmers needs to be in a big city to make farming more accessible in urban areas, Simonsen said.
Besides making the academy tuition-free, The Endowment pays for the trainees' books and other equipment.
Ranging in age from 25 to 55, each arrived with a connection to gardening or farming, or had an interest in a "regenerative future," according to Simonsen.
"Some are looking at leasing property from school districts or taking over vacant lots."

Rubie Simonsen
Facilitator for 252 Evolver, which aims to root aspiring ag entrepreneurs through a five-week intensive focused on regenerative farming and building silient communities
Stephanie Robinson likes the academy. She's converting her 1/4-acre lot in suburban Carmichael into a sustainable herb/vegetable farm and needed guidance in how to turn it into a business.
"Since part of this course is giving back to this community, I know I'm surrounded by other folks who want to do good in the world," said Robinson, a clinical herbalist and the Communications/Engagement Manager for the Sacramento Tree Foundation. "We're building a support network to lean on."
The program has a potent lineup of guest speakers. Among the first was Dominic Allamano, who spoke to students on a recent Monday evening about how most people today are not active participants in the food systems, and now are simply "consumers."
He told the trainees they have a chance to change that.
After graduating in mid-September, each class member will leave with a self-developed plan for operating a farm-based business for a year.
"Some are looking at leasing property from school districts or taking over vacant lots" for their enterprises, Simonsen said, adding that all graduates also will do one-year, part-time internships at area farms. Their $15-an-hour wage will be paid by The Endowment.
While profits can be elusive for new farmers, the graduates will enjoy other benefits, such as becoming stewards of the land, Simonsen said
For more info about First Mother Farms, click "learn more" below.