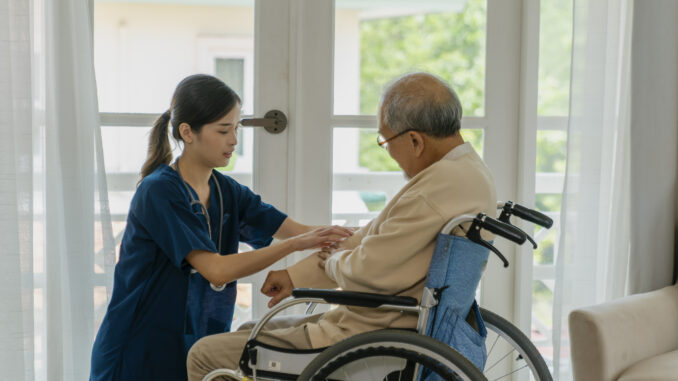 by Gia Martucci
Madalon Amenta, a founding mother of hospice in the United States and board member of YoloCares in Davis, has often said, "The roots of America's modern hospice industry stem from the civil rights era. Hospice itself was a powerful grassroots movement long before it became an industry."
End-of-life care, as we know it today, grew out of a crusade for social change and was birthed from a force that intended to challenge and reshape the national culture around death. What began as a struggle for social justice in the 1950s and '60s evolved into a fight for the rights of people who were living with a life-limiting illness.
By the 1970s, hospice became an organized effort to gain equal access to care and to infuse end-of-life care with the power of choice, quality of life, respect, compassion, and dignity. By 1982, nearly 20 years after the first hospice opened in the United States, Congress signed the Medicare Hospice Benefit into law, finally allowing care providers to bill Medicare for patients' hospice care. On the surface, this was a huge win for hospice care providers.
Amenta, who lobbied on Capitol Hill to pass the Benefit and went on to co-found the Hospice and Palliative Care Nurses Association, knew that it was only a matter of time before the tides would turn. Now, as a board member for YoloCares, a nonprofit hospice serving the Sacramento Valley, she is fighting a different battle, one meant to protect a legacy that she helped birth.
"American venture capitalists quickly figured out how to monetize a model that was designed to be benevolent and charitable at its core," says Amenta.
Over time, corporate America found inroads into the industry, exploiting the system and the patients it was designed to serve. In 1990, just 5% of the nation's hospice providers were for-profit companies. By the early 2000s, for-profit companies dominated the industry.
In fact, a study in JAMA Internal Medicine reported that today, for-profit entities operate nearly two-thirds of hospice services. In addition, a growing number of for-profit hospices are run by private equity firms and publicly traded companies, the study says.
For-profits also account for nearly 100% of newly established programs. Compared to the community-centered, nonprofit hospices that have existed for decades, these new players were often guilty of cutting corners, denying less profitable patients care, or offering substandard care.
"We do see fundamental differences in the business models," says Carole Fisher, President of the National Partnership for Healthcare and Hospice Innovation. "We do see excessive profiteering and taking advantage of the payment methodology. None of us are opposed to competition, but our mission-driven members reinvest whatever profit they may have back into patient care. They reinvest it back into their workforce. And they don't exclude anyone from care."
While most patients served by for-profit and nonprofit hospices are covered by their Medicare benefit, non-profits will often serve patients regardless of their medical coverage or ability to pay. As a consequence, non-profit hospices often rely on philanthropic donations to support patients who are underinsured.
For Michael Milward, CEO of the California Hospice Network, the differences are stark. "For-profit hospices will generally target patients that are less complex and more profitable. They're very adept at attracting patients who live in nursing homes and other facilities whose needs are far less than others. In contrast, nonprofits usually take all comers," he says.
While choosing the right hospice can truly make or break a family's experience with death, very few people are attuned to the differences within the industry.
"There are 60 hospices in Sacramento—more than the entire state of Florida," says Craig Dresang, CEO of YoloCares. "People don't realize, but they can choose the hospice they want. They should be informed consumers of end-of-life health care and look at organizations' quality scores. There are many fly-by-night companies. They're just looking to build a census to a certain amount and sell to a big for-profit and have a retirement nest egg. That's not the right motivation to be in this kind of health care."
So how can nonprofit hospices compete? Simply put: through community awareness, and through collaboration. The California Hospice Network allows nonprofit hospices to band together, to amplify their voice, and to have greater purchasing power for things like employee health care. And they can help get the word out to the community. If you or a loved one is in need of end-of-life care, you have a choice.
To learn more about CHN, visit https://www.cahospicenetwork.org/