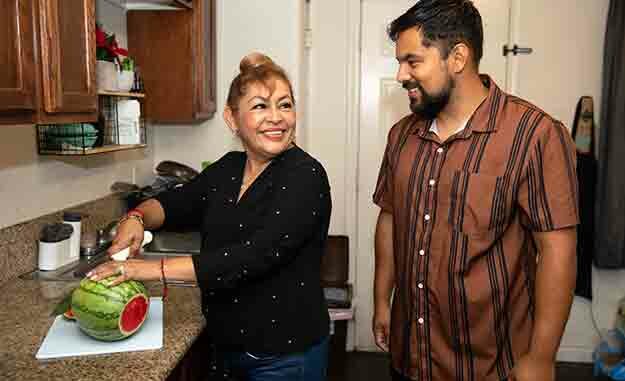 by Anne Stokes
Imelda Cruz and her family moved to Fresno to find the American Dream. With the promise of better work and higher income, the family came from Los Angeles where the cost of living was much higher.
"The house we moved into in Fresno at the time cost $175,000, which is really cheap compared to the market in L.A. And this was a house in the wealthier (neighborhood) in Fresno. It's a decent sized house: four bedrooms, two baths, it had a pool, and it was a quarter-acre property," says her son, Pedro Navarro Cruz. "When my parents bought their duplex (in L.A.), it was $270,000. … But when they sold it to move to Fresno, it was valued at about $400,000."
But in 2008, the housing bubble popped and homeowners across the country, including the Cruz family, suffered. They lost their home and a few other properties they had invested in. Today, Imelda is still working through housing insecurity, but she's trying to use her experience to help others in the same situation.
Through Communities for a New California Education Fund, she helped create a committee—Angeles de la Vivienda—dedicated to addressing the Central Valley's lack of affordable housing.
"Angeles de la Vivienda exists to look for ways to address the problems and the barriers for people to own a home," she says. "But it's not just about home ownership, it's also about learning more about tenants' rights and making sure that people who are going through unjustifiable evictions have the right resources and are not forgotten. It's a committee that looks at the housing crisis as thoroughly as possible and looks to address it with community members."
Having a home is more than just a roof over your head; it provides security and stability, especially for families. According to the People's Policy Project, housing instability has significant health impacts: Higher body mass index and systolic blood pressure, depression and anxiety. And in addition, it's associated with higher rates of domestic violence, suicide and substance abuse.
And according to a study by the American Academy of Pediatrics, African American and Hispanic households encounter housing instability at higher rates, which likely contributes to racial and ethnic health outcome disparities.
"To be a Latina in a housing situation, especially as an immigrant, it's almost like you have a target on your back, like you're in line to be taken advantage of," Cruz says. "Just because you're undocumented, just because you have a tighter income, and because you're under-informed."
Navarro Cruz, himself an organizer with CNC, initially helped his mother get involved with housing advocacy. He says that Angeles de la Vivienda was formed because many community members expressed their concerns about rising rents and that home ownership was financially out of reach.
"When we're meeting with folks, an ongoing topic has been housing. It's been brought up: 'I can't own my house,' 'I can't afford my rent,' and it continues to be a problem," he says. "The idea was organically born out of the reality that this is a problem many people are facing."
Both mother and son agree that the issue of affordable housing is a systemic one and collaborating with other community members is the best way to address it.
"We've been advocating, showing up to protest events when necessary with local governments, be it Fresno City Council (or) Fresno Board of Supervisors," says Cruz. "We've advocated for affordable housing and policies and legislation that would improve common people's lives because the problem that exists right now is that the people in power are not working to represent the average person like us. We're trying to seize any opportunities to make sure that pathways are created for people like us to be better represented.
"Our movement is about realizing that it's not about one person, we're better off fighting together," she adds. "The biggest thing that we're doing is letting people know they have a space to fight for their families, like we are, alongside us."
For more information about CNC and how you can get involved, visit www.cncedfund.org or follow them on Facebook, Instagram or Twitter for information and updates.