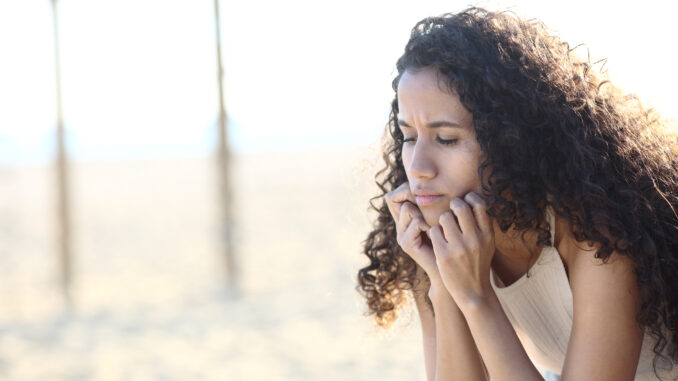 by Anne Stokes
Even though Karen Borja's childhood home was behind a Planned Parenthood health center, when it came time for "The Talk," there wasn't much to be said.
"The only real conversation we had was, 'If you get pregnant, please don't come ask for support from me, you won't get it at my house,'" she says. "I understood from conversations (with) my very Catholic, conservative Latina mom that support was not an option."
After leaving home for college, Borja found out she was pregnant. She knew she didn't want to have a child, that her priority was finishing her education and making her community a better place for everyone. It wasn't until a decade later, just before she started working with Planned Parenthood of the Pacific Southwest as Director of Legislative and Community Affairs, Borja was finally able to talk to her mother about her abortion story.
"I chose to have my abortion because it was about me, my health care decisions, my health care needs, and my future," she says. "My abortion is not about shame, it's not a decision I made with anyone else in mind except for me and my future. I am today, as a 33-year-old still Catholic Latina, very proud that that was a decision that I made, that I had access to."
Roe vs. Wade
On June 24, 2022, the Supreme Court overturned Roe vs. Wade, striking down Americans' constitutional abortion rights and leaving the fate of millions of women in the hands of state lawmakers. Soon thereafter, nearly half of U.S. states acted to ban or severely restrict abortion, despite the fact that 61% of Americans believe abortion should be legal and accessible.
Even though leadership in California has committed to protecting abortion rights, out-of-state patients have impacted the state's health care system. For those traveling to California for care, it's a substantial additional hurdle to overcome.
"People who are marginalized are more likely to experience difficulties accessing care and barriers because of cost, transportation, child care to get to an appointment, language barriers, lack of access to insurance and other issues," Borja explains. "Abortion bans have always disproportionately harmed Black, Latinx, indigenous and other people of color, immigrants, people with low income, and are the product of systemic barriers to care that our communities continue to face in California and outside of California."
How to Help
Despite the systemic barriers to abortion care—lack of local providers, lack of health insurance coverage, lost wages and time off work, childcare, lack of information, transportation and lodging costs, and shame—there is hope. Here is how you can help combat these barriers:
Donate to an abortion fund: According to the Guttmacher Institute, up to 75% of abortion patients are poor or low income. For those struggling to make ends meet, financial assistance can be a lifesaver. Find and donate to your local abortion fund—or any fund across the country—through the National Network of Abortion funds atabortionfunds.org.
Volunteer: Give your time at your local women's health center. Planned Parenthood centers provide training and volunteer opportunities to support providers and patients. Visit www.plannedparenthood.org for more information.
Vote: On Nov. 8, Californians can vote on Proposition 1, the Right to Reproductive Freedom Amendment. If passed, it would prohibit the state from interfering with or denying a person's reproductive freedom—including the right to choose or refuse abortion and contraceptives—and enshrine those rights into the state's constitution.
"Abortion in California is still legal, safe and protected," says Borja. "There are genuine efforts every day going on to share the opposite of the truth in our state. The more people who have access to the truth, the better we'll all be for it."
Abortion by the numbers
Twenty-four percent of U.S. women will have an abortion by the age of 45.
While the number of abortions initially surged after Roe vs. Wade, the rate of abortions has since steadily decreased. In 1981, the rate of abortions was 29.3 per 1,000 women ages 15 to 44. In 2020, that rate had dropped to 14.4 per 1,000 women.
From 2013 to 2018, the fatality rate due to abortion complications was 0.4 deaths per 100,000 legal procedures. Out of the 619,591 legal abortions performed in 2018, two women died.
In 2014, 90% of U.S. counties did not have an abortion clinic. Five states had a single clinic.
In 2019, 58% of women of reproductive age—40 million women—lived in a state hostile to abortion rights.