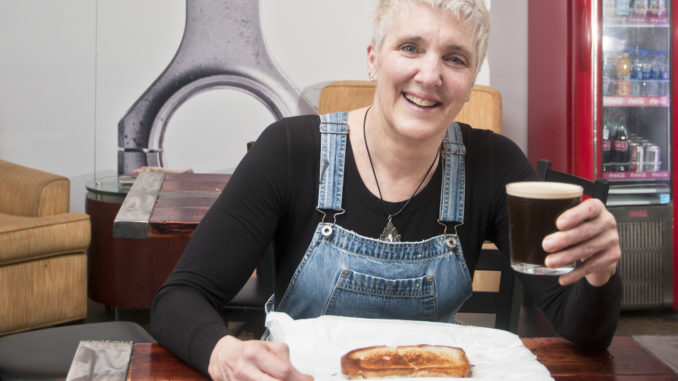 Shift Coffee House honored for 'Best Grilled Cheese' in California
BY ALLEN PIERLEONI
Shift Coffee House co-owner Carol Mundy sat at a table in her restaurant, near the Grilled Cheese Bar, and recalled how the recent avalanche started.
"A couple of our regulars came in and said, 'Congratulations!'" she said. "I asked, 'For what?' Then they told me and I couldn't even wrap my head around it."
The game-changing news was that Shift's grilled cheese sandwiches had been named the best in California by the food-centric online site Eat This, Not That. As the editors explained, "We worked with Yelp data to determine the best grilled cheese in every state." They cited Shift's creative ingredients as a main reason, "like tender brisket, carnitas, creamy avocado, crisp apple slices, and mango-habanero hot sauce."
Then, a Fox40 crew showed up and aired a segment. "That's when the floodgates broke open," Mundy said. "The Saturday after (the broadcast) we did four days' worth of business in one day and ran out of product. We had to close the next day to resupply and regroup."
Where might this lead? "We need a bigger boat," Mundy said. "I want to stay here, but we'll have to do some remodeling and figure out a few things."
Even before the sudden fame, "several people approached me, wanting to invest and open a second and a third Shift," she said "I think that can happen."
Shift has been a destination on Del Paso Boulevard since Mundy and her husband, Mike Hollis, bought it from a previous owner and opened about 16 months ago. The race car-themed decor is linked to Hollis' business, MPH Classics – he restores and customizes classic autos.
Though Mundy sums up her prior restaurant experience in one word — "None" — she said, "I didn't know what I was doing, but I knew grilled cheese was something I could get creative with. My daughter and I started creating coffee drinks and sandwiches."
They expanded the menu to 23 versions of the grilled cheese, 26 coffee drinks, and nine tea and lemonade drinks. For the record, the coffee beans are from Moschetti Artisan Coffee Roaster of Vallejo.
"Our goal was to create an atmosphere that was inclusive of the North Sacramento community and make it a place where everybody feels welcome and comfortable," she said. "Now, the police and firefighters are regulars, along with community groups, families and couples from all over Sacramento, and the residents of (neighboring) Woodlake, where we live."
So, what makes Shift's grilled cheese the best in California? "I think it's our high-end ingredients," said Mundy, adding, "Also, there's a lot of love that goes into every sandwich."