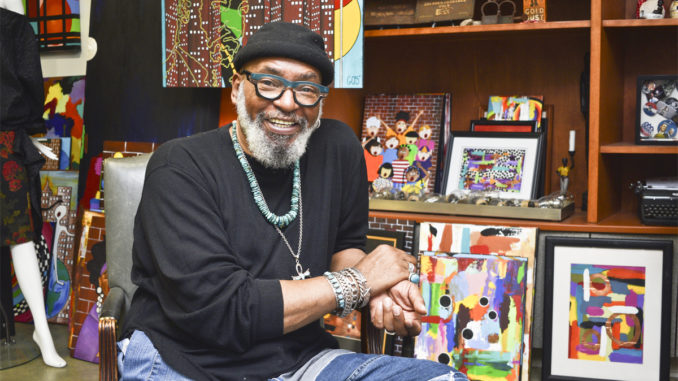 Well-known artist and designer Gerry Otis Simpson showcases his work in gallery-boutique
BY ALLEN PIERLEONI
Amid the art gallery's organized chaos of color-saturated paintings, denim "artwear," stark black-and-white photos and assorted curios is one particular item that succinctly reflects the owner's philosophy. It's a black T-shirt with two words printed on the front: "Unapologetically me."
That would be self-taught painter-photographer-fashion designer-actor-singer-writer-teacher Gerry Otis Simpson ("GOS," his initials, for short), who as a child "had this dream that I wanted to talk to the world."
He's done a fine job of that, culminating in his 5-year-old GOS Art Gallery Studio. Simpson calls it a "galletique" – part art gallery, part fashion boutique.
How did he get here? "Walking up and down Del Paso Boulevard [in the early years], I wanted to be part of what makes it come alive," he said. "Artists belong in the street and it's important to be around the people."
Simpson has long been all over the Sacramento arts scene. Most recently, he hosted a 9-month-long poetry series at his gallery, opened a show at the SMUD Art Gallery, was inducted into the California Arts Council, and appeared in a Celebration Arts production of "Macbeth." That's for starters.
His many honors include a Fashion Icon Award from the California Film Festival and California Fashion Week, and an Iris Award from the Elk Grove Arts Commission.
His works – including his handmade artwear clothing, largely denim – have shown at dozens of venues, including the Crocker Art Museum. "I've heard if you don't use the talents you're given, it's a sin, and I'm trying get through life without sinning," he said.
Simpson came to Sacramento in 1999, via New Jersey and the Bay Area. He worked for the Nordstrom chain as visual merchandising manager, then moved to American River College for 10 years as an adjunct professor, teaching fashion promotion and merchandising. "But at night I was an artist painting at home," he said.
Much of his focus depicts the African-American experience, mostly in a joyful way. "I want people to know it's not all been about slavery and pain," he said. "We're at a time now where we need to find a way to talk to each other. I believe we're more alike than we are different."
While his paintings are vivid and bright, his black-and-white photography is urban and gritty. "My photography is my realism, my paintings are my fantasies about the way the world could be – colorful, with a little sunshine," he said. "Color has great healing power, but above all it's not blind. I keep my messages simple."
Simpson's gallery is "a dream come true, my opportunity to fly," he said. "Art saved my life and this is my olive branch. Come see, it's not something to be afraid of. You might just enjoy it."
Special event
Gerry Simpson will show his works at the SMUD Art Gallery, 6301 S St., Sacramento, in an exhibition entitled, "The Sojourner Truth Museum: A Celebration of African American Art," sponsored by the Sacramento Metropolitan Arts Commission. Hours: 8 a.m.-6 p.m. Monday-Friday through April 2. Information: 831-624-3072.
GOS Art Gallery
1825 Del Paso Blvd., Sacramento 916-245-0711, https://www.gerry-simpson.com/