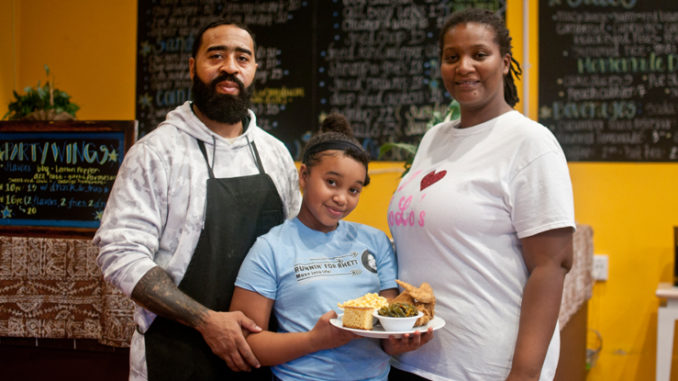 Former Oak Park restaurateurs bring popular soul food north
BY ALLEN PIERLEONI
Things have been somewhat hectic since Kevin and Tamar McCree's soft opening of Colo's Soul Food & Seafood on Nov. 1.
"We've been playing octopus arms" is how Kevin McCree puts it.
But one look at the menu and a taste (or two or three) of what's coming out of the kitchen and it's apparent the McCrees have it together.
Wrap your appetite around fried chicken smothered in homemade gravy, shrimp 'n' grits, fried catfish and oysters dredged in house-made Cajun seasoning and fried to golden crispness. One luscious dish rarely seen in Sacramento is smoked, deep-fried ribs; a soul-food delicacy.
Let's not overlook the 10 homemade side dishes, from black-eyed peas and collard greens, to red beans and mac 'n' cheese. Don't forget the cornbread.
If you're in a hurry, the menu offers an eight-item grab 'n' go lunch selection, starring an all-beef link, hot or mild.
In fact, it was the grab 'n' go model (including barbecue) that established the McCrees in Sacramento after their move from Oakland. Their to-go stand, Cora Lorraine's, operated inside Sam's Market in Oak Park. They built a loyal clientele there (which has followed them to Colo's) over five years.
"A lot of our customers at Cora Lorraine's came to us from North Sacramento and were always suggesting we find a location over here," Kevin McCree said. "We had an opportunity with this building and took advantage of it."
Colo's – short for "Cora Lorraine's" (named in honor of Kevin McCree's two grandmothers) – officially opens New Year's Day.
Several of their specialty dishes are served only on Sundays – gumbo and slow-stewed oxtails (the culinary term for beef tails, cut into segments and slow-cooked). Also, look for steamed "crab bags," sort of a soul food version of a New England clambake.
As for the recipes, "They're mostly our originals, with a few inherited from our grandmothers," Kevin McCree said.
Kevin McCree is a culinary arts graduate of Laney College in Oakland, while "Tamar was born with a spoon," he said.
"We both had the passion to cook," he said. "When we first met, I told her we would have a restaurant one day and she laughed. I said, 'Watch, you'll see.' And now we're here."
Soul food is a term that gets thrown around without much thought to context.
For Kevin McCree, though, "It's the most under-appreciated food on the earth. It's labor-intensive and gets to be pricey (to make) if you're not growing your own whole foods. It's very comforting if it's done right. You can taste every bit of flavor and a touch of love."
Further, soul food has a specific lineage. "I like to think it's based around families and the very powerful history of the struggle the blacks went through in slavery," Kevin McCree said.
"Today, as we speak, the economic struggles black people are faced with kind of bring people together. When people see a soul food restaurant out here, it brings those who can identify with it a little hope for their lives. But it's made for all to love and enjoy."
Colo's Soul Food & Seafood
2326 Del Paso Blvd.
916-692-8948, www.colosgotsoul.com