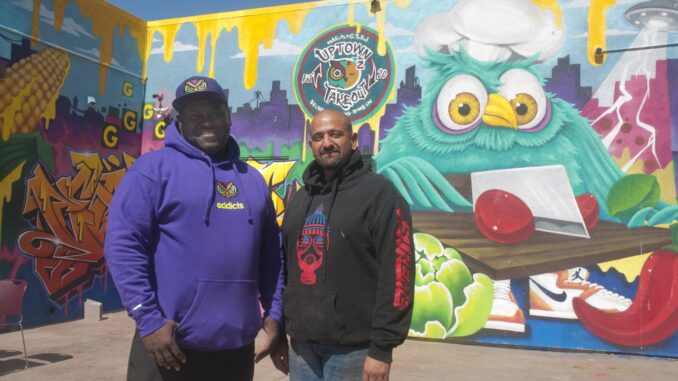 Two entrepreneurs open four businesses on Del Paso Boulevard
By Allen Pierleoni
Business partners Carlos Lopez and Aman Smith are hanging out inside Uptown Takeout, their 'cue-centric restaurant that once was D's Smokin' Pit.
On display are some of Smith's paintings, along with racks of hip clothing branded with Lopez's edgy logos. Out back on the patio is an oak-burning smoker and a stunning multi-wall mural.
"Our theme is barbecue, tacos and milkshakes," Smith says. "We're getting between 10 and 30 new customers every week, from Woodlake, Roseville, South Sacramento, downtown. It's becoming a destination."
Uptown Takeout is one of four businesses the partners have opened on Del Paso Boulevard, adding a certain swagger and style to Old North Sacramento's Uptown Arts District. Uptown Takeout is clustered at the corner of Del Paso and Oxford Street with Print Cultivators printing shop and DiverseCity; the fourth, Go To Bed, is a few blocks away. DiverseCity and Go to Bed specialize in branded clothing, shoes and accessories for the urban street lifestyle.
"We can walk to each business, which makes them easier to manage" Lopez says.
"We're district managers within one block," Smith jokes. "We call ourselves 'serial entrepreneurs.'"
"Once we got the first spot (for the printing shop), we thought, 'This is a diamond in the rough.' It happened organically, but then we said, 'Let's purposely build here,'" Lopez says. "Now we're part of developing an area, and we understand the value of that."
The longtime friends have a history of producing local musical events while running printing shops and clothing stores.
"We're active members of the hip-hop and arts communities, developing new and upcoming artists out of Sacramento," Lopez says. "We have plans for a recording studio. We have an entrepreneurial mindset, but we're artists through and through."
It was Lopez' "desire for branding, marketing and promotion" that eventually led him to suggest to Smith that they combine their print shops and relocate them on Del Paso Boulevard under one name, Print Cultivators.
Print Cultivators specializes in garment printing for brands and businesses. One of its biggest clients is 420 Stock, a national leader in cannabis-related paraphernalia packaging, with production facilities in Sacramento and the Bay Area.
Another client is Universal Clothing Boutique on Del Paso Boulevard. "We're working on their clothing brand," Smith says. "And we're working on our own brands — Addicts Supply and Go To Bed."
"Our goal is to have our brands become bigger than any company we work with," Lopez says.
Six months ago, the partners renegotiated their leases to commit to five years for each business, "so we're going to be around," Lopez says. "Our duty is not just selling services and retail; it's creating camaraderie with an area. Sacramento artists are migrating here right now, and we're super-proud to be part of the arts community. I understand the value of Midtown, but I also understand the value of saying, 'We're in the Uptown Arts District, the original and first branded entity.' It's an opportunity."
Early on, the partners linked with the Del Paso Boulevard Partnership, the nonprofit that offers representation, promotion and assistance to local merchants and property owners.
"They were the only ones who tapped in with us right away and said, 'Hey, we see what you guys are doing, what do you need?'" Smith says. "In the beginning, they wrote a check and said, 'Put it towards whatever you want.' We matched it, and that helped get us off the ground."
A trend is developing as other businesses open on Del Paso Boulevard.
"Having a diverse group of young entrepreneurs really says a lot about Del Paso Boulevard and the enthusiasm folks have for what's going on in the area," says Del Paso Boulevard Partnership executive director Daniel Savala.
"The energy and the crowds these businesses are drawing really helps build our momentum as we look past COVID-19," he adds. "As each new business opens, more and more people come out to the area and get to see what so many of us have known for a long time — Del Paso Boulevard is a special place where businesses can thrive."
Uptown Takeout is located at 2306 Oxford St., Sacramento, at the corner of Del Paso Boulevard. Phone: 916-696-7559. Hours: Noon-8 p.m. Thursday-Friday, noon-9 p.m. Saturday. Closed Sunday-Wednesday.
Find out what's happening on the Boulevard! Click on https://dpbpartnership.com/.