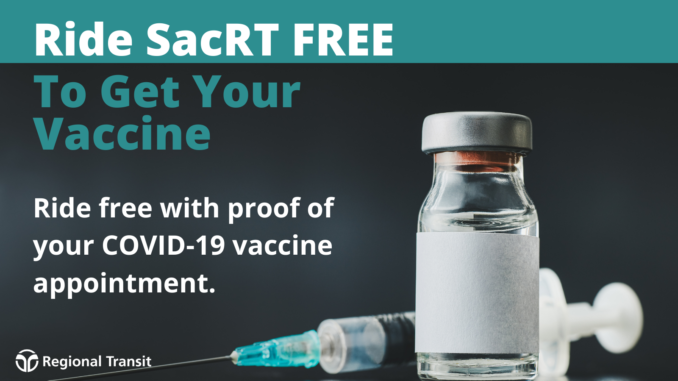 SacRT offers free round-trip fares to COVID-19 vaccinations
by Anne Stokes
Whether you're looking forward to spending in-person time with loved ones, traveling, or you're ready and eager to get back to work, getting vaccinated is the best way to make sure that happens. To ensure everyone who wants their shot can get it, Sacramento Regional Transit District is offering them free rides there and back again.
"Access to vaccinations is a top priority for Sacramento County Public Health. We do not want transportation to vaccination sites to be a barrier for anyone that wants to receive a vaccine," says Sacramento County Public Health Officer Dr. Olivia Kasirye. "This partnership with SacRT is critical to serving people that may not otherwise be able to access vaccination locations, including people with physical disabilities. We're grateful for their hard work and commitment to serving our community."
Through May 31, SacRT will be giving free round-trip fares to hospitals, pharmacies and other Sacramento County vaccination sites. Free fares are good the same date of your appointment, which can be verified with either an email or text confirmation or your vaccination card. Free fares are available on:
Light rail services
Fixed-route bus lines
SmaRT Ride services
SacRT GO Paratransit services
Folsom Stage Line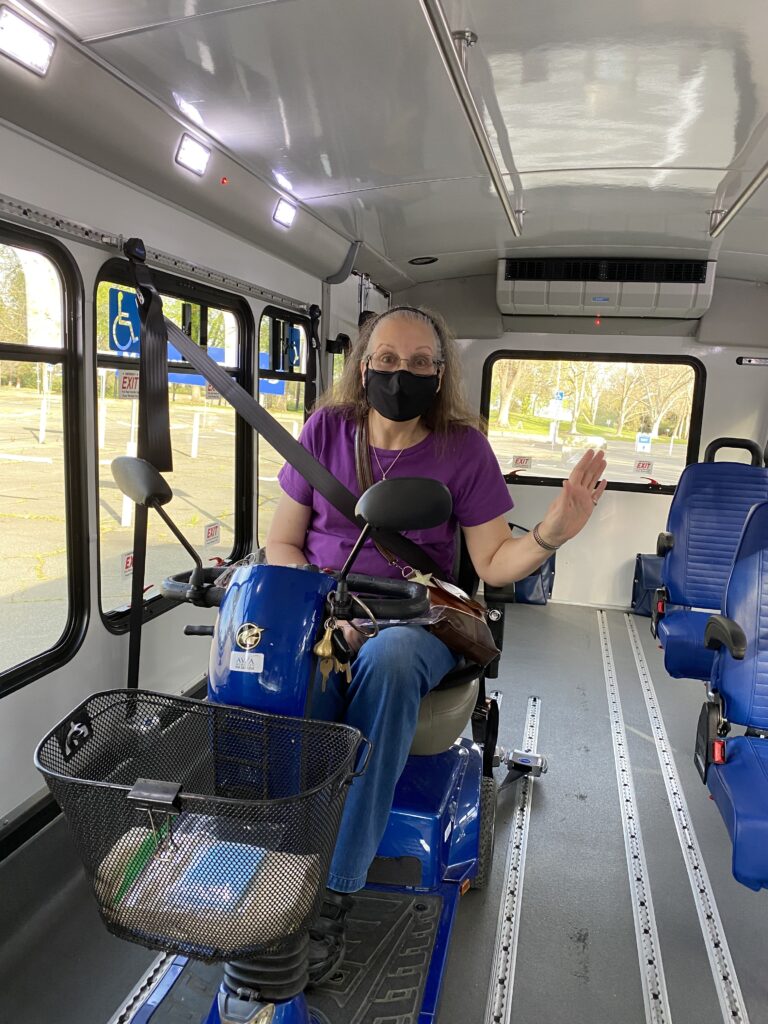 "The free ride was one less thing I had to worry about," says Melanie Cadile, GO Paratrainsit Services rider. "Thank you SacRT."
California is on the brink of reopening thanks in large part to COVID-19 vaccination efforts throughout the state. According to the California Department of Public Health, more than 18 million vaccines have been administered to date and by April 15, all Californians over the age of 16 will be eligible.
"From the start of the pandemic, SacRT's number one priority has been ensuring the safety and well-being of its employees, customers and community members," says Henry Li, SacRT general manager and CEO. "By providing free rides to and from COVID-19 vaccination centers, we are helping the Sacramento region recover from this crisis by continuing to slow the spread of the virus."
To see if you're eligible to get your free COVID-19 shot—and to make an appointment if you are—visit www.saccounty.net/COVID-19 or call 916-875-2400.
As a reminder: Masks or face coverings are required while riding SacRT transit and at any station or customer service center.
For more information on routes, visit www.sacrt.com/vaccines. or call 916-321-BUSS (2877).