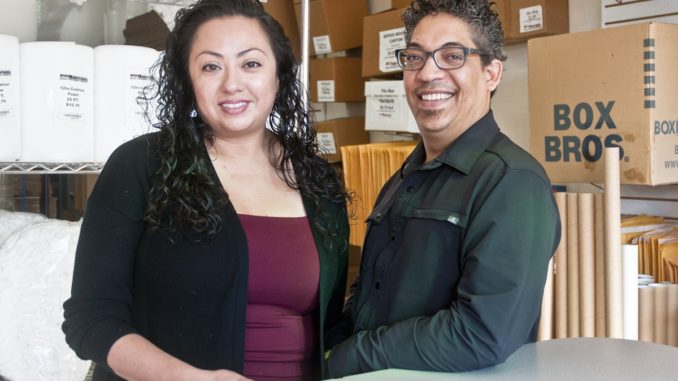 Box Brothers thrives on Del Paso Boulevard
BY ALLEN PIERLEONI
"Exciting, interesting things come through the door every day," said Jay Roth, co-owner with his wife, Lisa, of the Box Brothers packaging-shipping store.
"Interesting" like that gorgeous painting over there, propped carefully in a corner. Someone had bought it at the renowned Witherell's auction house on 20th Street and arranged for Box Brothers to package it and have it shipped to London, a trip of nearly 5,300 miles. That's what you call trust.
But let's back up: The Roths opened Box Brothers on Del Paso Boulevard nearly 11 years ago. Along with offering office and moving supplies and a full menu of business services (faxing, laminating, copying, scanning, notarizing, post-office box rentals and the like), they specialize in the customized packaging and safe shipping of items ranging from the everyday to high-value fine art.
"The arts community knows us," said Lisa Roth. "If they sell something that needs to be shipped out of town, they come to us."
"We handle anything large and/or fragile that needs to be shipped internationally," Jay Roth said. And not only artwork; it can include everything from a taxidermied bison's head and a rare grapevine cutting to high-value musical instruments.
"There aren't any places in town I know of that have our expertise in packaging fine art," Jay Roth said. "We work with Witherells, Verge Center for the Arts, the Crocker Art Museum and GOS Art Gallery Studio [among other businesses and artists]. The artwork can be challenging, but we keep things safe."
For instance? There was that $10,000 Tiffany lamp they shipped to New York, and the massive yet fragile sculpture of two dancers. "It was on a base bigger than this tabletop," Jay Roth said. "It took three of us to move it. We built a crate for it and sent to to the U.K."
The actual shipping is done by their "trusted shipping partners," which includes German giant DHL, acknowledged as the world's most efficient international delivery service.
Why did the Roths choose Old North Sacramento for their store?
"We wanted to be part of the growth of this neighborhood, a place where we could make a difference," Jay Roth said.
"This community has provided us growth," Lisa Roth said. "It just needed [a business] to stay and be a place where people could come to again and again."
"We're a true mom-and-pop shop," Jay Roth said. "We raised our kids here when they weren't in school, and we're proud to have minority employees who live in the community."
The Roths rely on word of mouth for customer expansion. "Just people finding us, liking what we do and telling (others)," Jay Roth said. "That's how we've been here for 11 years."
[others]
Box Brothers
2213 Del Paso Blvd.