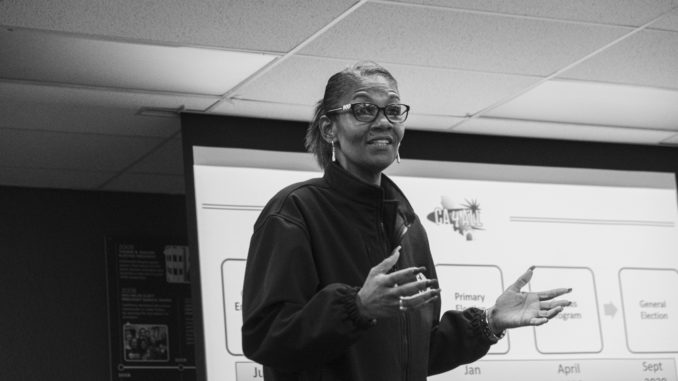 From registration to election day, suppression gets creative
Why do we celebrate Black history in February? Thank Frederick Douglass and Carter Woodson. Douglass, America's most famous abolitionist, was born a slave sometime in February 1818. President Abraham Lincoln, who signed the Emancipation Proclamation, also was born in February. With those dates in mind, February was chosen to commemorate Negro History Week in 1926 by historian and author Woodson, the "father of Black history."
History of all kinds is important to remember; it helps us understand our present situation in the trajectory of the past, so we can also change the future.
Take voter suppression, for example. Back in 1957, the Justice Department created a Civil Rights Division. Its job was to protect voters from discrimination. Starting in the early 2000s, that emphasis has shifted away from protecting civil rights to searching for voter fraud — and making it harder for people to vote.
Supreme Court Chief Justice John Roberts, who started working against civil rights in the 1980s, was pivotal in the 2013 decision to strike down the Voting Rights Act provision that removed federal oversight of state election procedures. That opened the door to discrimination against voters.
What has been the impact? I see three main obstacles to voting.
Some states are making it more difficult to register to vote, using everything from poll taxes to voter ID laws to punishment for incorrectly filling out voter registration forms. They are passing laws to ban on-campus ballot boxes, requiring non-restricted parking at any polling place, demanding out-of-state students to get in-state driver's licenses or car registration, or disallowing use of student IDs as voter identification. Texas permits handgun licenses as proof of voter identification, but not college student IDs.
Why target students? Voters age 18 to 25 are more likely to vote progressive. The University of Wisconsin system has more than 170,000 students, but that state saw student participation in the 2016 election drop drastically after the adoption of voter ID laws. In 2016, Donald Trump won Wisconsin – a pivotal electoral state – by fewer than 23,000 votes.
Voter ID laws also work against Black and Latino voters. According to the Milwaukee Journal Sentinel, eligible Black and Latino voters were about three times less likely than whites to possess an accepted form of state ID required to register. As a result, 63,085 Milwaukee County eligible voters did not possess an accepted I.D. leading up to the 2016 election. And that was just one county!
In the name of fighting fraud, states also are purging people from voting lists, making them ineligible to vote even after they have registered, or invalidating ballots for minor technicalities after people have voted. In some states, hundreds of thousands of people have been purged unfairly from the rolls. Nationwide, it's adding up to millions.
Just last week, a federal district judge ruled that the suit accusing Georgia Gov. Kemp of using racially biased methodology to purge up to 700,000 legitimate voters between 2016 and 2018 has merit. Kemp won his governor's race by fewer than 55,000 votes.
Some states also continue to prohibit ex-prisoners from voting. They've served their time and are off parole, but may still not be permitted to vote. These rules vary greatly from state to state. California is among five states that allow ex-felons and probationers to vote, but not inmates or parolees.
So, what is there to do? We realize that voter fraud is being used as a scare tactic, playing on racial bias and our fears.
Spread the word. Support organizations that are helping register voters and fight discrimination. Volunteer to help register people to vote. Our votes matter — and protecting the right to vote is fundamental to our democracy.