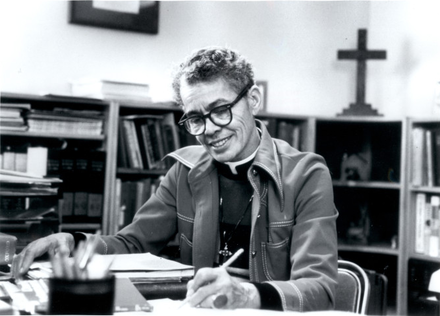 Poets provide inspiration in both words and actions
"a poem is pure energy
horizontally contained
between the mind
of the poet and the ear of the reader
if it does not sing discard the ear"
— From "Poetry" by Nikki Giovanni
Poetry can make your heart and mind soar. It distills language down to an essence; simple, pure and powerful. And it makes you think.
That's why I love poetry.
During Black History Month, we celebrate poet greats such as Maya Angelou and Langston Hughes, two of my favorite poets.
I'd like to share with you two lesser known poets that have also touched my life.
Their lives' work went far beyond words on a page.
Poet and writer Pauli Murray changed history. Lawyer, activist, scholar, Episcopal priest; she accomplished many firsts.
Murray wrote, "Hope is a Song in a weary throat." That was from "Dark Testament," part of her incredible 1970 collection.
But it's her writings on discrimination against African American people (particularly children) and all women that had the widest impact.
As a lawyer and scholar, she came up with the idea of how to legally argue a case against segregation, by documenting psychological harm on Black children. Her paper and research were used by future Justice Thurgood Marshall, then chief counsel for the NAACP, in arguing Brown v Board of Education — the 1954 landmark case in school desegregation. The U.S. Supreme Court ruled unanimously that separate is not equal and that racial segregation in public schools was unconstitutional, At that time, 17 states mandated that all their schools be segregated.
"States' Laws on Race and Color," her 746-page book exposing the extent of segregation in every state in the country, was called by Marshall the bible of civil rights lawyers and played an essential role in beating segregation.
What Murray did with others is as important as her individual accomplishments. Early in her career, she organized to raise money for the defense of a Black man sentenced to death. She worked on behalf of the Southern Tenant Farmers Union, an interracial organization in Arkansas. It was founded in the 1930s to help sharecroppers and tenant farmers who had not been helped under the New Deal Agricultural supports to get federal assistance.
Over the decades, Murray kept collaborating and developing new institutions to fight sexism and racism. She came up with the idea of an "NAACP for women" and co-founded NOW – the National Organization for Women — with Betty Friedan in 1966.
Nikki Giovanni, now in her 70s, is a poet, writer and scholar. A longtime professor at Virginia Tech, she's won seven NAACP Image Awards and written three New York Times best sellers – remarkable for a poet. When she was starting out, she couldn't find anyone to print her poems, so she started her own publishing company. She became one of the leading poets of the '60s Black Renaissance.
"My dream was to discover something no one else had thought of," Giovanni said of her career. "I guess that's why I'm a poet. We put things together in ways no one else does."
Her first collection of poems in 1968 was a response to assassinations and treatment of Black leaders and the Black community. She's written so much since then including children's books; she was nominated for a Grammy. Giovanni wrote so many incredible poems, such as "Africa," "Revolutionary Dreams" and one simply titled "Poetry."
Like Murray, Giovanni continues to inspire me with both her words and actions. One of my favorite Giovanni quotes: "I really don't think life is about the I-could-have-beens. Life is only about the I-tried-to-do. I don't mind the failure but I can't imagine that I'd forgive myself if I didn't try."