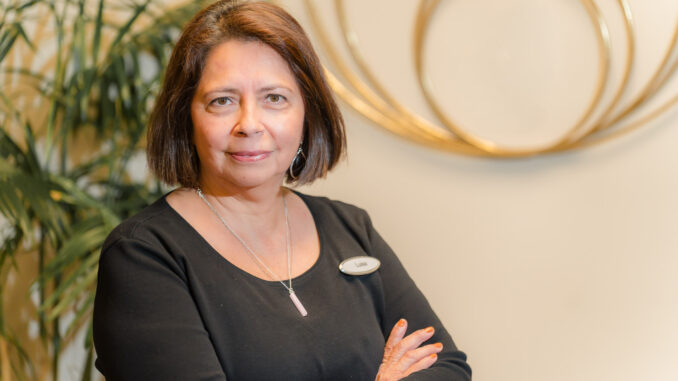 by Raul Clement
When Luisa Rivera decided to take English classes in 2012, she never imagined that she would find herself back in the same classroom 11 years later—let alone that this time she'd be in front of the class, giving a speech.
Rivera had already been in the U.S. for years when she finally signed up for the ESL program at Huntington Beach Adult School. She was a fluent English speaker, but she still felt she had more to learn. Her position in Human Resources for the Hyatt Regency Orange County requires polished written communication.
"A lot of times, my punctuation and tenses were wrong," Rivera explains. "Working in Human Resources, which is the face of the hotel, I wanted to make sure I was sending the right messages in the right way. The ESL program helped me tremendously with that."
Hiring for a place like Hyatt Regency can be difficult. The hotel is a 24/7 operation, so employees need to have flexible availability. Furthermore, the hotel likes to promote from within, so Rivera is always looking for people who she believes will stay the course. It's a path she herself followed.
"I was a cashier, then did accounting, and now human resources. I worked myself up in the company. I didn't start in human resources," she says. "Our company has a lot to offer to people who stick around."
So when Rivera was looking to find good candidates, she naturally thought of Huntington Beach Adult School. She'd been through the program and knew what it could do. She asked them if she could send over job listings. This led to them inviting her to a job fair last April, and again this year. And in February of this year, she was invited to speak in front of a class as part of HBAS's "Job Readiness" series.
Her topic: Employer Expectations. She talked about eye contact and smiling, but most of all the importance of being honest. When candidates come across as honest in interviews, she feels she can trust them to show up on time, be communicative and fulfill the responsibilities of the job.
Ironically, although she lectured on expectations, she herself didn't expect that she would be standing in the same classroom where she'd taken ESL classes years ago. It actually became a talking point in her lecture, a way of emphasizing to the current ESL students the value of the skills HBAS teaches.
These skills extend beyond merely learning a new language. HBAS offers more professional skill development and life-skill training every year. Even Rivera, who attended the program, is impressed by the way it has pivoted and expanded to accommodate the needs of students.
"I know that since I've left it's gotten even better," she says. "They are more hands-on now. They're helping students with things like opening checking accounts and responding to business emails. I'm proud of the school for changing up their teaching methods to improve the experience. I think it's wonderful. I really do."
To learn more about programs offered at Huntington Beach Adult School visit www.hbas.edu or call (714) 842-4227.