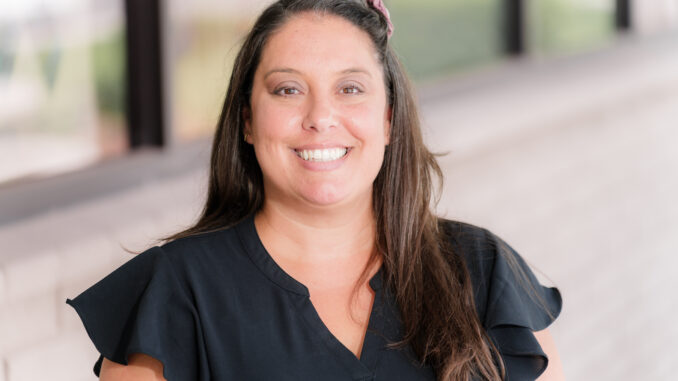 by Krysta Scripter
Without support, many adult students, especially those with families, face unique challenges that hinder their educational goals. The Westminster Family Resource Center provides services specifically tailored to these students, including basic needs assistance, case management and citizenship assistance.
"We want them to be able to focus on that educational component because that's going to open doors for career opportunities and for financial gains. If having food on their table is a barrier to allowing them to get to that class to take that next step, we want to remove that," says Gina Nunes, the former program supervisor for the resource center who's in the process of transitioning into a new role while still providing support for the program.
The resource center has partnered with Huntington Beach Adult Education for years, but this last year was the first for a new on-site program to help students access much-needed resources. The resource center sets up at the Westminster campus every fourth Thursday to offer their services to the student population.
These services are also available at the resource center itself, but Nunes says the on-site program is designed to help students get access to the services they need quickly.
"If transportation is an issue, if the timing is an issue, if that becomes a barrier we wanted to remove that," Nunes says. "So instead we just station the services straight on the campus. Students can come over during or after their classes and connect with one of our family support advocates to learn about what's available to them and get linked up to the appropriate services and resources."
Westminster Family Resource Center's services include everything from case management, family counseling, domestic violence services, parent education, public benefits assistance and basic needs like food, diapers, rent and utility assistance.
"We do offer our services at the Family Resource Center in English, Spanish and Vietnamese, so that really makes it accessible for the population," Nunes says.
Providing these services to students with families is especially important, Nunes says, because meeting these needs can help their education goals, something critically important to better their career prospects and provide better lives for themselves and their children.
"With students that are returning back for GED programs, for instance, or for their career chain education, those tend to be families that maybe have experienced some hardships and challenges along the way, and are looking for and would benefit from resources to stabilize their family resources and build that self-sufficiency," Nunes says. "And those are families that we want to serve. They are doing what they need to do through the school to better themselves, but this extra support really strengthens that foundation. So they're really getting the support from all different sides to build that build on that foundation that they're making and really advance their capital."
To learn more about programs offered at Huntington Beach Adult School visit www.hbas.edu or call (714) 842-4227.