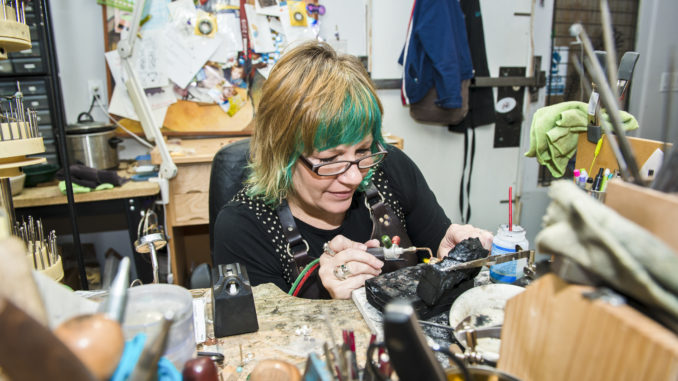 Little Relics offers sustainably-sourced, hand-made wearable art
BY ANNE STOKES
When you walk through the door, it's immediately clear Little Relics isn't like other big-name jewelry shops: There are no high-pressure salespeople or cases of mass-produced wedding rings. What you will find are contemporary hand-made pieces and a traditionally-trained bench jeweler who can create unique statement pieces or repair just about anything put in front of her, even complicated repairs that other jewelers turn away.
"My skill set is pretty wide," says Susan Rabinovitz, a certified Graduate Jeweler and owner of Little Relics. "We do anything from costume jewelry all the way up to platinum. We are also the only house that has hand-crafted jewelry."
Not only is Little Relics able to do all custom work on site, Rabinovitz is committed to using ethically sourced fair-trade materials, something to consider when looking for perfect wedding bands and anniversary or birthday gifts.
"People can comfortably buy from us and their conscience can be clear," she says. "If you want something that's super unique or to have a little personality or a twist to it, I'm definitely someone who can build it."
From dainty stacker rings to precious gemstone statement pieces, Little Relics carries a wide variety of jewelry to choose from, both in price and design. However, Rabinovitz says some of her favorite work is reworking heirloom jewelry into new treasures.
"People are pushed to buy new pieces of jewelry instead of refurbishing or repurposing what's being passed down through families. That's what I love doing, taking a piece of your family history and refurbishing it or repurposing it and still adding to the future of that piece," she says. "I get super stoked when people want my craft to be a symbol of their life together. I love that."
Find unique treasures at Little Relics, located at 1111 24th St. in Sacramento. Visit online at www.littlerelics.com or call 916-346-4615 for more information on custom jewelry design or repair requests.