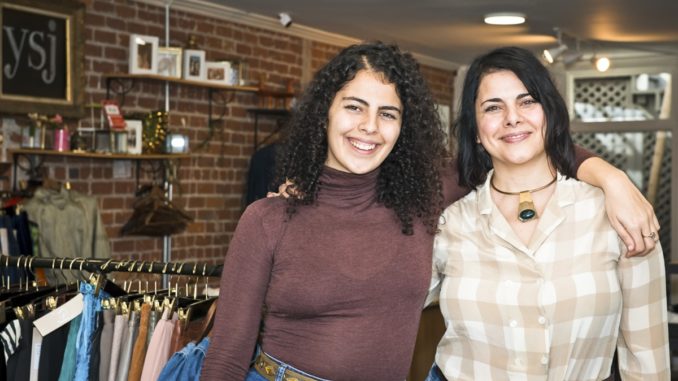 Vintage YSJ can help breathe new life
into your old wardrobe
BY ANNE STOKES
Vintage shopping can have its highs and lows: Finding an amazing one-of-a-kind piece that's not in your size, or it fits like a glove, but it looks like something you'd wear for Halloween.
At Vintage YSJ, however, you won't find the typical mish-mash of styles and sizes. Over the past 12 years, mother-daughter duo Maggie and Yasmine Kafati have cultivated a high-fashion blend of vintage styles and modern trends.
"Normally when you go to a vintage shop, it … can come off as very 'costume,' but ours is curated for wearable fashion, [rather] than looking like period pieces," said daughter Yasmine. "It's vintage but interpreted for modern fashion."
According to Maggie, the trick to looking put-together is incorporating pieces into your existing style, rather than going head to toe vintage.
"Most people have their specific style and they need to be true to themselves," she said. "If they were to be true to their style and add pieces — like 'I like the high-waist style, but I'm not sure about it' — they can pair it with a modern top or whatever they like to wear."
Another vintage shopping issue is finding your size, something that Vintage YSJ has designed their boutique around.
"We'll pick a few trends and we'll offer a range of sizes in that trend," Maggie said. "You can come in and find, for example, high-rise trousers or high-rise vintage denim, and we'll have it in a range of sizes."
If you're in need of an expert's eye, Vintage YSJ is now offering styling services. Whether you'd like to introduce more vintage into your wardrobe or have an upcoming event and need a new look, staff can help you put together something fabulous.
Visit Vintage YSJ at 1812 J St., Sacramento, or online at shopysj.com. For more information on styling services, call 916-442-4882. Follow them on Instagram at @shop_ysj to see what's in store.