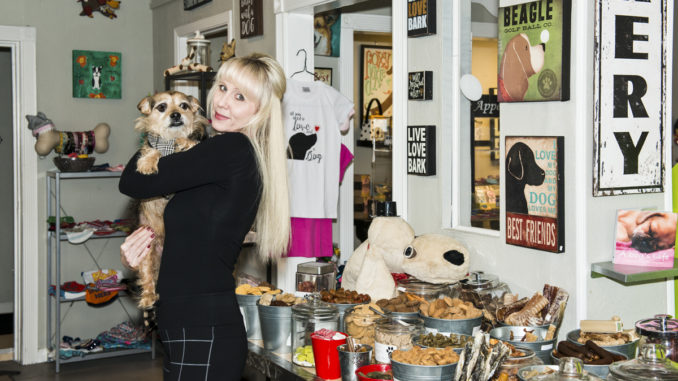 Pamper your pup in style
BY ANNE STOKES
Not only is a dog's love unconditional, it also can be a lifesaver — literally! According to the Centers for Disease Control and Prevention, dog ownership can lower blood pressure and cholesterol, keep owners active and decrease stress. Paws & The Palette bakery and boutique has tasty and healthy treats to thank your pup.
"Everything in our store is healthy and organic for dogs," said owner Lisa Spurney. "All of our treats are wheat-free, corn-free, soy-free and grain-free … everything is really healthy."
Paws & The Palette not only stocks treats — like cookies, cannoli, ice cream, cakes, bones and jerky — at their Midtown boutique, but they also carry typical canine accoutrements such as collars, leashes, toys, sweaters and skin care. Spurney said she tries to carry unique items from local Sacramento companies, such as the Be Kind Pet Line. The shop is also a dog-friendly venue where you can host celebrations for your party animal.
Inspired by Ladybug, her beloved basset hound, Spurney also manufactures Vegan Pup carob chip cookies, which are good for dogs with allergies or other sensitivities. With every purchase of Vegan Pup cookies, 2% of the proceeds are donated to Pets of the Homeless, an organization that provides food and health care for companion animals. Paws & The Palette is also a designated drop-off location for Pets of the Homeless and Front Street Animal Shelter and can accept donations of food, blankets, leashes and other items. To sweeten the deal, Spurney offers $10 worth of treats in the shop with any kind of donation.
"I just love helping animals," she said. "The Pets of the Homeless and Front Street Shelter donations are really important to me because it does a lot of good."
Visit Paws & The Palette at 1014 24th St., Sacramento, or online at www.pawsandthepalette.com. For more information on events or custom treat orders, call 916-337-3370.