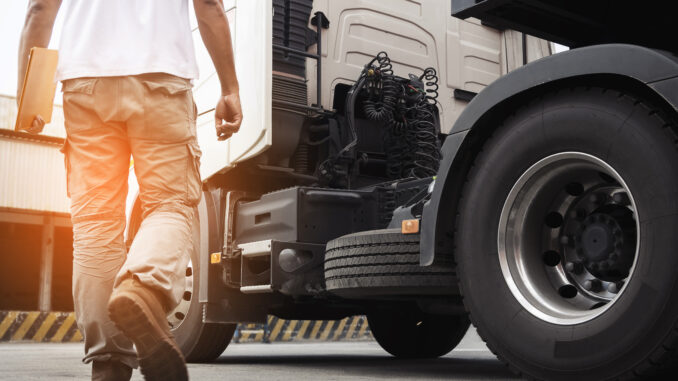 by Gail Allyn Short
Button Transportation and Benjamin's Transfer Inc. are two, family-owned California trucking companies known for delivering farm harvests, industrial materials, and second chances.
Both companies, together, operate the AAA Academy LLC truck driving school in Dixon, and are working in partnership with the Workforce Development Board (WDB) of Solano County to provide training and employment opportunities for parolees and justice-involved individuals striving to turn their lives around.
"They (Button and Benjamin's) want to see people succeed and get away from the lifestyle they had before," says Lew Altomare, AAA Academy's academic officer. "I train a great number of students who are on parole."
Parolees and justice-involved individuals hoping to work as truck drivers have turned to WDB employability specialists like Nel Sweet-Davis for guidance.
"I assist individuals who are seeking to enter, reenter, or to advance within the workforce," Sweet-Davis says.
"First is the job placement piece, finding them employment and helping them get the skills they need for gainful employment," she says.
In particular, she identifies employers that are willing to hire parolees and the justice-involved. She also supports clients in need of wrap-around services if they lack resources such as housing or transportation, which without can hinder their job search.
Parolees also can obtain assistance from Sheryl Cutler, program analyst with the WDB's America's Job Center of California. The Center is where parolees can get help applying for jobs.
In addition, the Center also partners with local adult schools and junior colleges to recruit individuals who want to further their education or apply to job training programs.
"We're the access point for getting into enrolled programs," Cutler says.
Altomare says Cutler has helped some of his students to complete paperwork necessary for applying to the AAA Academy.
Meanwhile, those who complete AAA Academy's truck driving program can work for Button for a season, says Altomare, and, if they are good workers, Button or Benjamin's will hire them.
He recalls one Academy graduate in particular who enrolled in the school last year. The student excelled so much that Button Transportation hired him full time.
"He's probably one of the best drivers the company has working for them right now. I actually wrote a letter to the parole board about his work ethic, and he got off of parole early," he says.
For employers hesitant to hire parolees, Altomare has this simple message: "Give them a chance."
To learn more, visit https://www.solanoemployment.org/