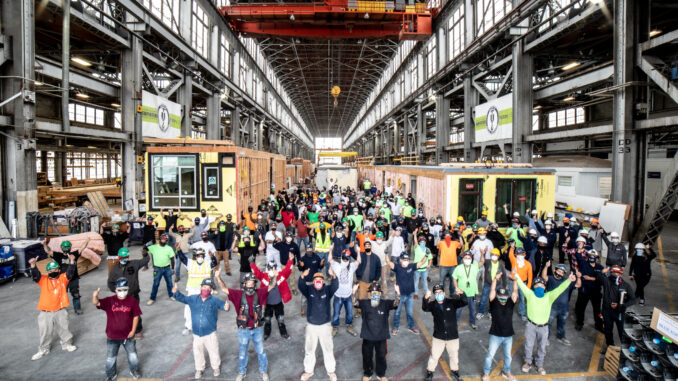 by Anne Stokes
Through its innovative business model, Factory_OS is changing the way quality, affordable housing is built. The modular homes created in its Mare Island, Vallejo factory cost less and take less time to build than conventional construction while still maintaining high quality standards.
The company's founders, Rick Holliday and Larry Pace, have decades of experience in development, construction and affordable housing. They also have an attitude that's reflected in the way they treat their employees.
"We don't see our production team as factory workers, we see them as people who work in a factory," says Nancy Holliday, director of Factory_OS' corporate culture program. "We get to know a lot about their lives so that we can provide programs that will make the work environment sync with their lives and allow them opportunities to advance."
One such program is their commitment to hiring and training second chance workers, those who may have trouble finding jobs due to criminal records or choices they have made in the past. Together with the Workforce Development Board of Solano County, Factory_OS offers employment opportunities that enable formerly incarcerated, homeless and others with troubled lives a chance to get established and back on their feet.
"They're not still paying their debt to society, they are paying into society: They're being allowed to further their education, feed their household, to function as a law-abiding citizen. Those are things they really want to do," says Nel Sweet-Davis, employability specialist and case manager for the Workforce Development Board of Solano County. "Don't be afraid to hire someone who has a blemish or mark on their past. These can be some of your best employees, they're just looking for the opportunity to show you that."
At Factory_OS, all production positions are union jobs and all workers are offered health and 401(k) benefits.
And unlike traditional construction jobs, Factory_OS workers enjoy reliable work and predictable hours—6 a.m. to 2:30 p.m. every day—that allow for a life-work balance for their families.
"I've had a rough life due to the choices that I have made," says Matt Johnson, a framer with Factory_OS. "I never gave myself the opportunity to see what I'm worth and what I'm capable of. This job has given me that opportunity. It makes me feel whole inside, just to see my kids' faces when I come home and I'm off work."
It can be very difficult for individuals with justice backgrounds to find employment, Johnson says. That frustration can often impact their motivation to succeed. Factory_OS gives motivation to people "who have had a hard life and want a new way to live."
For employers considering opening up opportunities for people, Holliday says that it's been a great experience for her company, describing their second chance workers as "second to none."
"If you decide you're going to do it, you do it with compassion (and) respect. … Be humble, nonjudgmental," Holliday says. "Don't take in second chance workers if you're already going to have an opinion of them. … If they're looking for a job, they're starting to come through it and you need to judge them for where they are and where they're going."
"A lot of guys here are being given those second chances and because of that, they are turning around and giving second chances to other people," says Supervisor Jay Ridley. "It comes full circle. One of the best ways to help yourself is to help other people."
To learn more, see https://www.solanoemployment.org/