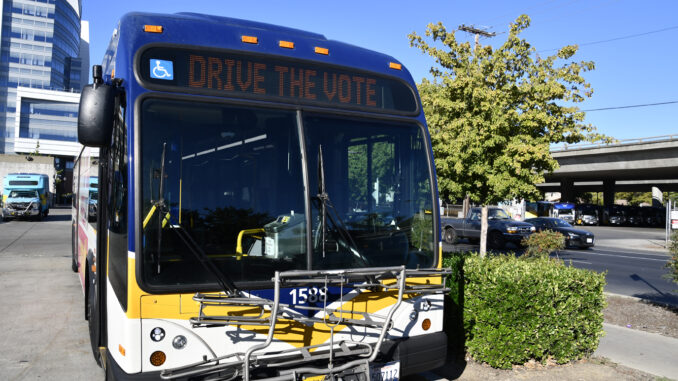 by Thea Marie Rood
Voters have a lot to consider this election season, but thanks to Sacramento Regional Transit's Drive the Vote program, one thing we don't have to worry about: transportation to and from the polls.
In partnership with Sacramento County and the Sacramento Kings, SacRT is offering free rides to Vote Centers and Vote by Mail Ballot Drop Box sites, starting this weekend.
Oct. 24 and Nov. 3: System-Wide Free Ride Days
On Saturday, Oct. 24, the first day of early voting, you can catch free rides aboard all light rail, bus, SmaRT Ride on-demand microtransit shuttles and SacRT GO Paratransit Services. Or catch a free ride on Tuesday, Nov. 3, Election Day. A flyer or exemption code is not required.
Oct. 26-Nov. 2: SmaRT Ride Free Ride Days with Flyer
Weekdays from Monday, Oct. 26 through Monday, Nov. 2, you can also catch a SmartRT Ride microtransit shuttle in any of the nine service zones for a free ride to the Vote Center or Vote by Mail Ballot Drop Box located in each SmaRT Ride zone. A special free ride flyer is required.
To locate Vote Centers and Vote by Mail Ballot Drop Box sites in your service zone and to obtain the SmaRT Ride free ride flyer, visit sacrt.com/drivethevote.
Oct. 24-Nov. 3: Kings Rally the Vote
From Saturday, Oct. 24 through Tuesday, Nov. 3, the Kings' Golden 1 Center in DoCo will serve as an early voting location. Any California voter can drop off a completed ballot. And any Sacramento County resident can get a new printed ballot to take home, vote in person, register to vote, update voter registration, receive language assistance, or use an accessible ballot marking device to vote. Golden 1 Center was the first professional sports venue to announce plans to serve as a Vote Center and it is also the largest one in the county, making social distancing easy. For more information, see rallythevote.org.
Oct. 24/31-Nov. 3: Open Sacramento County Vote Centers
Sacramento County will open 84 Vote Centers for the Presidential General Election, 18 of them from Saturday, Oct. 24 through Election Day, Tues. Nov. 3. The others will be open Saturday, Oct. 31 through Election Day. Visit elections.saccounty.net to learn more about vote center locations.