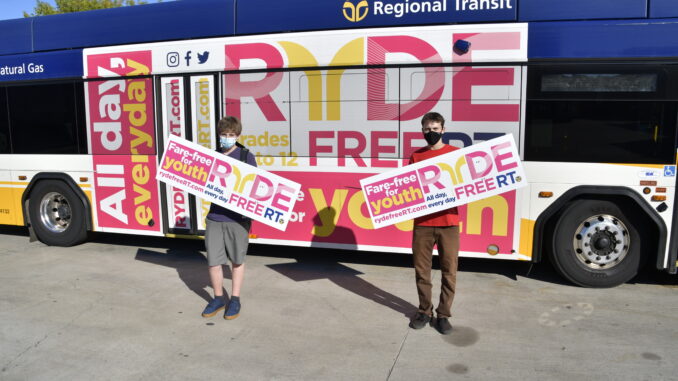 by Thea Marie Rood
The Sacramento Regional Transit District's fare-free program, which waives fares for students and youth in transitional kindergarten through 12th grade across SacRT's service area, has been extended for another year, through Sept. 30, 2021.
And the extension is not just based on anecdotal evidence collected from kids who use this popular program (although that exists as well). Preliminary research findings supported by Sutter Health show a significant positive impact on SacRT's youngest riders.
For example, student ridership was up 127% pre-COVID and remained high even after the shelter-in-place, with riders reporting it was easier to get to school, as well as to after-school or non-school activities. The new transit users are by-and-large kids who previously had to depend on a car ride to get where they needed to go: Now they have more reliable transportation and are contributing to a decrease in automobile traffic and pollution in their neighborhoods.
"RydeFreeRT has clearly had a huge impact on our youth and on our city as a whole," says Jay Schenirer, SacRT board director and a member of the Sacramento City Council. "The city's continued investment in this partnership with SacRT will have significant payoff well into the future with our youngest residents being the primary beneficiaries."
Data further shows about 220,000 students are eligible for the fare-free program. This includes students, home-schooled students, and foster and homeless youth. (And kids experiencing homelessness or in foster programs are allowed to participate regardless of their current residence or school address.)
Fares are waived on buses, light rail and SmaRT Ride microtransit service in Sacramento, Folsom, Citrus Heights, Ranch Cordova and parts of Sacramento County.
Because of the restrictions in place due to the pandemic—such as libraries and school offices closed or offering reduced hours—students don't need a RydeFreeRT sticker or card to ride, but can simply show a student ID (even if it's not current).
"This program demonstrates another way that the city and SacRT is committed to creating lifelong transit users and supporting youth, particularly those who are in greatest need," says Schenirer.
Students and youth who do not have a student ID can get a free RydeFreeRT card by visiting SacRT's Customer Service and Sales Center at 1225 R Street (adjacent to the 13th Street Station). For more information, see rydefreert.com.