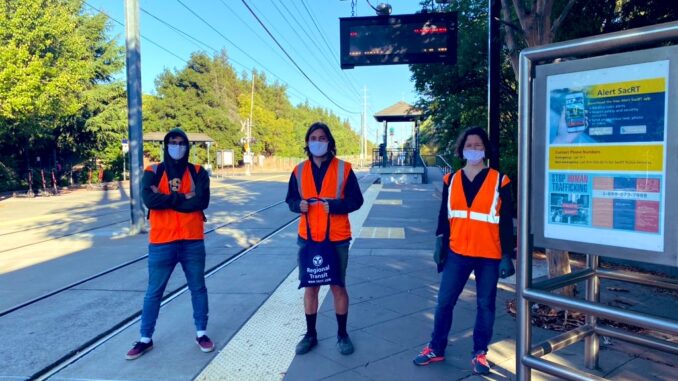 by Allen Pierleoni
When Jessica Gonzalez learned that Sacramento Regional Transit District had received 60,000 free face masks from federal, state and city sources, she knew just what to do.
To help fight the pandemic, SacRT requires its passengers to wear masks or face coverings while waiting for or riding all of its transit, so Gonzalez – SacRT's Director of Marketing, Communications and Public Information – figured it would be a win-win to hand out masks to riders who didn't have them.
The only challenge was finding volunteers to do the job.
No worries, as it turned out.
First, she reached out to the state's California Volunteers office, which supplied an email list of potential volunteers.
"We were really excited about the response, and it was humbling to see so many people willing to give their time to help," Gonzalez says.
Next, a series of orientation sessions were held, at which the volunteers received personal protective equipment to use during their shifts.
"We reviewed track safety and what they would be doing," she says. "They also picked up bags of pre-packaged masks to hand out to riders at light rail stations and transit centers across the region."
The program has been a big score for SacRT, its riders and its corps of volunteers, who represent a diverse cross-section of our region.
They're people like analyst Ginger Smith.
"It's frustrating to see others who don't heed the directives that call for facial coverings in public," she says. "I want to be a part of a solution, not just grumble about the problem. SacRT has given me such an opportunity, (helping riders) who are also my neighbors and fellow human beings."
And there's educator Erin Lebacqz, who sees it as "a great way to do something for individual members of our community and to contribute to the overall health safety of our city," she says. "As a lifelong educator, my 'norm' is to get out there and do direct things other people need. This project helps me do that during these hard times. It's a good feeling."
Also, there's U.S. Census enumerator Daniel Domich. For him, this taste of volunteerism could be a stepping stone to bigger things.
"I'm definitely using this opportunity to get into the volunteer ecosystem, and I plan on continuing to other volunteer options as things open up," he says.