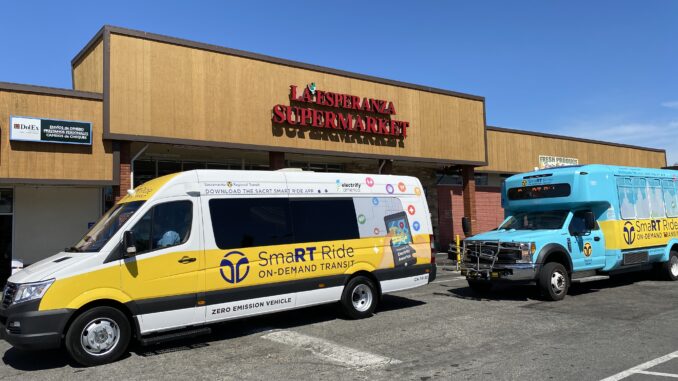 by Allen Pierleoni
The good news is that the Sacramento Regional Transit District has once again broadened its transit service area, offering safe, convenient and easy access to more destinations for riders.
The better news is that the expansions are in SacRT's three existing SmaRT Ride on-demand micro-transit zones that were previously underserved. Within them, communities look to SacRT service for such essential needs as getting to work and medical appointments and to markets for grocery shopping for their families.
The expansions are in the Franklin-South Sacramento, North Sacramento and Rancho Cordova zones, three of the nine SmaRT Ride service zones. SacRT, with 45 vehicles, operates the nation's largest micro-transit system.
In the Franklin-South Sacramento zone expansion, SacRT also debuted three zero-emission electric SmaRT Ride shuttles.
"SacRT continues to provide innovative mobility choices in the Sacramento region, especially during the COVID-19 pandemic, by investing more resources in communities that need reliable access to transit service," says SacRT board chair and Sacramento city councilmember Steve Hansen. "SmaRT Ride is a vital option for residents during these challenging times, in particular for our many riders who are not able to work remotely."
For new riders not familiar with the SmaRT Ride program, its slogan says it all: "Public transportation that comes to you."
SmaRT Ride is an on-demand ridesharing service that can be requested via smartphone app, online or by phone call. Remember, they operate only within the boundaries of each service zone.
The single-ride cost is a bargain at $2.50 or $1.25 for the discount-eligible. If you're in a group of five or more, traveling from the same pickup point to the same drop-off point, everyone rides for free.
"We continue to see customers enjoying the convenience of SmaRT Ride service and we hope that the expansion of the zones will improve connectivity and mobility options for many others in the Sacramento region," says SacRT general manager/CEO Henry Li.
To download the free SmaRT Ride app, get answers to frequently asked questions, and view maps of the three new zone expansions, go to https://www.sacrt.com/apps/smart-ride/