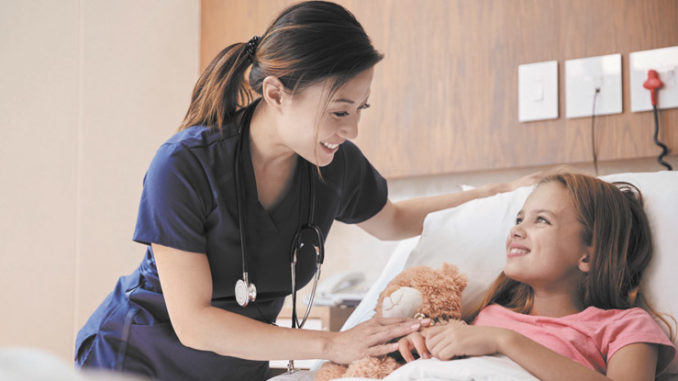 Groundbreaking program creates path to a better career
Imagine how difficult it is with kids, working, saving for their education, while also trying to dream of a different professional life for yourself. When do you decide to give up on your dream?
Or do you find a different way to attain that goal?
One path to achieving that better job is through an apprenticeship, an old-fashioned idea that is gaining renewed relevance for today's super busy workers. It gives them a second chance to follow their dreams while still bringing home a paycheck.
This is National Apprenticeship Week and, in recognition, I want to share how apprenticeships change lives for the better. Apprenticeships let workers increase their skills and get paid while learning.
Launched in 2016, our groundbreaking LVN-to-RN Apprentice Program – the first of its kind nationwide – has helped scores of workers advance their health care careers. Seeing a major gap in the upward mobility opportunities for our members, SEIU Local 1000 partnered with state agencies and local colleges and won access to nearly $10 million in grants to create new career pathways and more sustainable careers.
I met someone who had given up all hope and then, through our union program, was able to finally make her dream for herself and her family come true.
Married with two children, Anilyn works at the California Health Care Facility in Stockton. She always knew she wanted to be a nurse, but as a young adult, school was pushed aside when she needed to start working.
After many years as an administrative assistant, she returned to school and, in her 30s, became a Licensed Vocational Nurse or LVN.
Her goal was still to be a Registered Nurse, but her family struggled with the cost of returning to school. She learned about the union's LVN-to-RN Apprentice Program through Delta College. She applied and was among the first selected for the program. As an apprentice, all costs were covered.  While working part time and going to school, she still earned her full salary.
Today, Anilyn works as an RN at CHCF. "I wouldn't be where I am today without the union," she said. "I don't think I would have gone back to my goal of becoming an RN without the program. I know it helped a lot of us to finish."
Gursharn is another SEIU Local 1000 member who benefited from the apprenticeship program.
"I had lost hope of being able to complete school and would have days where I would get so sad thinking about it," said Gursharn, a 2018 apprentice graduate. "But with the apprenticeship program, I was able to go back and attain my goal – to be a Registered Nurse."
Our LVN-to-RN program has expanded from Delta College and Sacramento City College to Riverside City College. In addition, we now have information technology and financial services apprenticeship programs.
Part of addressing inequality is giving more people a chance to get a better paying job, not just improve salaries of existing jobs. This is what career mobility means to me.
Apprenticeships such as these offer one big step in that right direction.