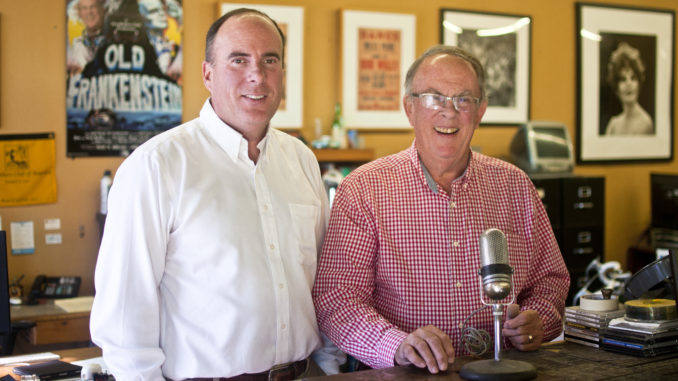 Family legacy continues at Del Paso business
BY ALLEN PIERLEONI
One of Sacramento's oldest thoroughfares is also one of its most dynamic. Each week, join us on a stroll along Del Paso Boulevard, where you'll discover new and vintage businesses and organizations, and meet the people who make Uptown Sacramento their home. This new feature is presented every Thursday by Sacramento News & Review in conjunction with the Del Paso Boulevard Partnership.
"I've got printer's ink and sound systems in my blood. Quite a combination, huh?"
Wally Clark was recalling his career path, from working at his father's printing company in the Sacramento Public Market Building, to opening Associated Sound on Del Paso Boulevard in 1989 and growing it into one of the most successful small businesses in Sacramento.
Now, Wally Clark is on the verge of retirement and ready to pass on the family business to his son, Brad Clark. It's been a journey for both men – an ending for one and a continuation for another.
Wally Clark was 18 in 1968 and working full time at W.G. Clark Printing when he got the chance to go on a national summer tour with a band as its sound man. When he returned, he and close friend Lou Wentworth brainstormed the notion of starting a company that specialized in renting and setting up sound systems. It helped that Wentworth's dad had been in the audio business.
"We wanted to fill a need we saw," Clark recalled. "The sound technology at all the (fraternal organizations) was ancient, so we started setting up new rental systems for their events."
Associated Sound was "just a weekend hobby," sharing space (literally a closet) in the printing company where Clark continued to work.
When the Public Market closed in 1974, Associated Sound followed the print shop to a building on P Street. "We kept growing and needed more space, so we moved to Del Paso Boulevard," Clark said.
They specialized in sound-wiring events of all types – thousands of them – all over town. Later they added a "contracting" department, installing permanent systems in schools, restaurants, churches and halls.
"In the early days, we did a lot of the big folk groups coming through town – Joni Mitchell, the Kingston Trio, Peter, Paul and Mary," Clark said. "We did a couple of rock shows (including Deep Purple), but all those groups cared about was being loud."
Associated Sound also wired Hughes Stadium at Sacramento City College for Olympic trials, and the State Capitol grounds for rallies. Clark supplied sound for California governors up to Arnold Schwarzenegger, and presidential candidates up to Barack Obama. "We did Bob Hope a couple of times," Clark said. "I met a lot of neat people."
Associated Sound's biggest job was in 1985, installing the sound system inside the original Arco Area, a three-month job.
Soon, Clark and his team realized that "everything started to become TV events, especially political campaigns," he said. "But we learned that as soon as the cameras are gone, the world goes back to where it was."
Of course, the mainstream technology has gone from analog to digital. But Clark isn't a fan of computers.
"In this business, the most important tool we have is our ears," he said. "Does the system sound good? Now I see a lot of young people staring at their computer screens and not using their ears. They think the sound has to be right because the computer says it is."
Still the sound source
Recently, Brad Clark and his crew spent two straight days setting up the sound system for Old Sacramento's upcoming Theatre of Lights extravaganza. It was one of about 30 rental jobs Associated Sound averages each month, in addition to three or four contracting jobs (permanent installations).
The job was nothing new to him. Brad Clark grew up in the family business, coming over full time in 1995 after college. "It's really self-taught, hands-on learning," he said.
Associated Sound's business model has been changing and will continue to change when Brad Clark takes over from his father.
"We're out of the concert business and focused on board meetings, press conferences and fashion shows, with occasional larger events like sports and shows like Theatre of Lights," Brad Clark said.
"There will be more contracting, designing and consulting and fewer retail sales. We'll continue going for the smaller jobs because they don't take a crew of 10." (Associated Sound is a four-man shop.)
In the end, how do they feel about the transition?
"The idea of having it go forward with family and longtime employees who are like family is a good legacy," Wally Clark said. "Now I can go play with all the old printing equipment."
"I'm here because I love it," Brad Clark said. "It's an honor to take it over."